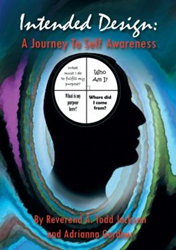 May you be awakened, inspired and spiritually liberated, as I have been, by this guided journey to self-awareness.
HOUSTON (PRWEB) May 29, 2014
When author and minister A. Todd Jackson sat down with a 65-year-old woman to discuss her life, she told him that after all these years, she still was unclear of her purpose on Earth.
Jackson too had struggled with this feeling of not knowing his true self or purpose. His new book, "Intended Design: A Journey To Self Awareness" (published by Lulu), co-authored by Adrianna Gardner, is the result of his inner search to discover what makes life worth living.
The purpose of "Intended Design" is to assist other readers on this same journey of self-discovery. Jackson guides readers through a series of exercises and meditations that will help readers begin an open and honest discussion with themselves.
Jackson approaches the topic of faith, spirituality and God from a perspective outside of organized religion. Though he incorporates biblical teachings into his practices, Jackson also looks to history and culture to enrich lives and lead readers towards new understandings of themselves.
"The most powerful tool on this globe that anyone can ever have is knowledge of self and their purpose," writes Jackson. "May you be awakened, inspired and spiritually liberated, as I have been, by this guided journey to self-awareness."
"Intended Design"
By A. Todd Jackson & Adrianna Gardner
Softcover | 5.83 x 8.26 in | 64 pages | ISBN 9781483406473
E-Book | 64 pages | ISBN 9781483406466
About the Author
A. Todd Jackson studied biology at Texas Southern University. As an ordained African Methodist Episcopal minister, Jackson has been a guest speaker at numerous youth programs and celebrations.
Adrianna Gardner is a freelance writer and creative consultant. She studied creative writing at the University of La Verne. She later studied literature at the University of Ghana where she wrote, "Liberation Road: One Woman's Journey Home."
Lulu empowers people of all ages to explore and express their interests, passions and expertise through books, photography and art. Since introducing self-publishing in 2002, Lulu has empowered creators in more than 225 countries and territories to produce nearly two million publications. Lulu Jr. allows children to become published authors, encouraging creativity, strengthening literacy and building self-esteem. Picture.com offers professional photography of collegiate and professional sports, memorable and historic events, fine art and home décor. For more information, please visit http://www.lulu.com.