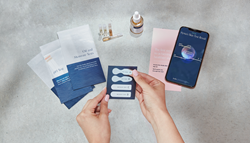 The Atolla Skin Health System, leveraging advanced machine learning algorithms, captures precision skin data for each consumer in order to create custom serums.
NEW YORK (PRWEB) August 13, 2019
Today, Atolla, a Brooklyn-based startup with MIT-roots, officially launched its proprietary offering - the Atolla Skin Health System - nationally.
The Atolla Skin Health System, leveraging advanced machine learning algorithms, captures precision skin data for each consumer in order to create custom serums.
"Through our extended research, we have identified the key variables to optimize customized skincare, including hydration, oil, pH, and absorption. Each month we then send the customer easy-to-use, app scannable tools to track how their skin is changing. We use these physical data points plus information on the users' environment, lifestyle, diet, and products in their routine to design their custom serum," said Dr. Ranella Hirsch, co-founder and CSO.
Users recalibrate their skin measurements monthly and update the app with any changes to their lifestyle and routine. Each month's formulation is adjusted based on changes in the user's prior month measurements and feedback, so it always stays suited to the user's unique skin. Atolla was born from the personal skin struggles of co-founders Meghan Maupin and Sid Salvi, who joined forces with dermatology guru Dr. Ranella Hirsch to bring the idea to reality.
"I have super sensitive skin, and when I got to MIT, I found myself dealing with a whole new set of skin issues," said Maupin. "I couldn't understand what was causing my skin freakouts or how to solve them. Challenged to figure it out, I realized that I was at the best place in the world to solve this complicated problem with machine learning."
"The Atolla model is built on giving and getting data and feedback from our users. This includes uniquely combining key measurements of skin's health with an extended dermatological history and product preferences to make the most efficacious product that someone loves to use," added co-founder and COO Salvi.
After a highly successful crowdfunding campaign on Kickstarter last year, Atolla is now available for online purchase. For media inquiries, please email press@atolla.co. To purchase, visit the Atolla website: https://atolla.co.
Bios:
Meghan Maupin (CEO): Meghan has a graduate degree in Engineering and Management from MIT, and previously worked in design roles at Patagonia, The MIT Design Lab, and Formlabs. With an expertise in integrating new technology into user experience, her work includes designing an AI-powered personal assistant, and launching multiple products for mass customization in 3D printing.
Sid Salvi (COO): Sid left MIT Sloan after the first year of his MBA to start Atolla. Before MIT, he worked at Kurt Salmon (now part of Accenture Strategy) helping retailers and brands incorporate predictive analytics into their operations. He started his data science career building machine learning models to help large CPG brands optimize marketing spend.
Dr. Ranella Hirsch (Dermatologist and CSO) Dr. Ranella Hirsch is a frequently quoted authority in Cosmetic Dermatology. Called an "Expert Derm" by Allure and a "Beauty Guru" by Marie Claire, Dr. Hirsch is the Past President of the American Society of Cosmetic Dermatology and Aesthetic Surgery.