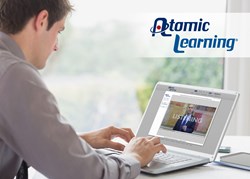 Little Falls, MN (PRWEB) January 16, 2014
Atomic Learning now provides a variety of Career Skills training to its users. This newly developed training is designed to help users be successful and gain confidence in today's workplace. Whether they need to work on skills for the job they have or prepare themselves for future job roles, this new type of training will get them started on the right path.
With training on topics such as The Art of Influence, Navigating Relational Conflict, and Effective Listening, users will be able to watch these new short online series to gain personal and professional development. Each series is divided into short easy to understand videos, allowing users to skip over items they may already know, or re-watch portions they want a better understanding of. View a sample of the new Effective Listening training series.
Our library of Career Skills training continues to grow, with many new topics in currently in development. For more information on how your campus can start utilizing this training and more, visit http://www.atomiclearning.com/highed/request-information
About Atomic Learning
An integral part of your faculty development program, a valuable help desk resource and a vital tool for course technology integration, Atomic Learning's online training resources assure you can keep individuals both on and off campus up-to-date on current technology. Atomic Learning provides over 16 million individuals in more than 45 countries worldwide with just-in-time technology training tools and resources for effective technology integration. Learn more at http://www.AtomicLearning.com/highed.
Contact:
Kathy Sell
Director of Marketing
ksell(at)atomiclearning(dot)com
###