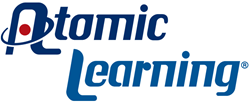 'We are excited to provide our customers with an improved user interface and allow instructors to utilize grade center functions to record and present grades to students,' said Jon Blissenbach, VP of Product and Business Development at Atomic Learning
Little Falls, MN (PRWEB) June 10, 2014
Edtech training leader Atomic Learning recently announced it has attained IMS Global Learning Consortium (IMS GLC) Learning Tools Interoperability™ (LTI™) v1.1 certification to further extend the Atomic Learning Learning Tools Interoperability (LTI) Tool functionality with the company's education partners. The edtech training company's tool functionality previously held v1.0 compliance.
With the Atomic Learning LTI Tool, instructors can search Atomic Learning's online library of technology training videos and learning resources from within their LMS—and easily embed links to resources within courses.
"We are excited to provide our customers with an improved user interface and allow instructors to utilize grade center functions to record and present grades to students," said Jon Blissenbach, VP of Product and Business Development at Atomic Learning. "Faculty, staff, and students continue to have direct access to the technology training and support content they need in their existing learning system."
The v1.1 enhancements will allow LMS administrators to utilize the grade center, eliminate extra steps in the implementation of Atomic Learning content, and when someone searches for Atomic Learning content to supplement an assignment, they'll now be able to see the content type and the length of the tutorial.
Visit http://www.atomiclearning.com/more to learn more about how your institution can purchase an Atomic Learning subscription, or if you already have a subscription, please contact our customer service at cs(at)atomiclearning(dot)com or call 866-259-6890, ext. 8 to obtain a launch URL, consumer key, and shared secret for your LMS.
Atomic Learning is the trusted training solutions provider of 16 million individuals in more than 45 countries worldwide. Leading school districts and educational institutions around the world will look to Atomic Learning and IMS GLC to provide a seamless classroom experience with technology integration tools for teachers, students and parents. IMS GLC members include the leading educational technology and publisher organizations across K-20.
About IMS Global Learning Consortium (IMS GLC) IMS Global Learning is a nonprofit member organization that strives to enable the growth and impact of learning technology in higher education, K-12, and corporate education worldwide. IMS GLC members are leading corporations, higher education institutions, school districts and government organizations worldwide that are enabling the future of education by collaborating on interoperability standards and major adoption projects for the digital support of education and learning. IMS GLC also sponsors Learning Impact: a global awards program and conference that recognizes the impact of innovative technology on educational access, affordability, and quality. For more information, visit http://www.imsglobal.org.
About Atomic Learning
Founded in 2000 by a group of technology educators, Atomic Learning serves over 16 million individuals in more than 45 countries worldwide. Atomic Learning offers a cost-effective just-in-time professional development, technology integration and support solution that empowers educators to effectively utilize technology to positively impact student achievement. As your ed tech training partner, Atomic Learning helps teachers develop college and career-ready students with 21st century skills-based training. Visit us today at http://www.AtomicLearning.com.
Learning Tools Interoperability (LTI) is a trademark of the IMS Global Learning Consortium, Inc. in the United States and/or other countries. ###