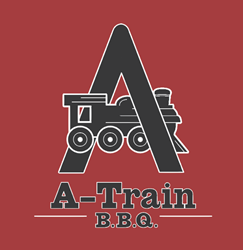 Barbecuing is an ideal way to unite friends and family and spend quality time together, while eating great-tasting food.
Lakeland, FL (PRWEB) May 18, 2016
Due to the advent of summer and warm days of spring, more and more people will be partaking in one of America's favorite pastimes: cooking outdoors, aka barbecuing. "Barbecuing is an ideal way to unite friends and family and spend quality time together, while eating great-tasting food," said Dave Ashley, owner of A-Train B.B.Q., which features an eclectic menu.
In honor of May being National Barbecue Month, the Ashleys, Dave, Matt and Carol, list the top five secrets for the best barbecue:
No. 1: Low and slow. "Meat should be hardwood-smoked at about 250 degrees," said the Ashleys. "Temperatures should be constantly checked to get the meat to just the right temperatures."
No. 2: Rub to season the meat. For pork, Ashley suggests using a liberal coating of coarse kosher salt, "most of which sweats off during cooking," and granulated garlic. The salt helps to retain moisture during cooking.
No. 3: Secret is in the sauces. "Sauces that are sweet, smoky and ketchup-based work best," said the Ashleys, whose own sauces have been developed and perfected over the past twenty years. "Honey, molasses, Worcestershire sauce, brown sugar, chili powder, cumin, minced onion, red pepper, dry mustard, and just a touch of liquid smoke are also key ingredients."
No. 4: Side dishes that complement the BBQ. Bacon, stresses Ashley, is a key ingredient in most side dishes, such as mac and cheese. Other side dish suggestions include corn bread with diced jalapenos, with corn and bacon baked right in, and BBQ baked beans with pulled pork, kidney beans, diced jalapenos, poblano peppers, sweet BBQ sauce, shredded brisket, dijon mustard and, of course, bacon.
No. 5: Carefully hand-trim Grade A meat. "To control the quality of the product, you should trim most of the fat with just enough left to keep it moist," said the Ashleys. "Also, always use nothing but Grade A meat."
About A-Train B.B.Q.
A-Train B.B.Q. is a family-owned and family-friendly restaurant featuring homemade dishes and desserts, and is renowned for its homemade sauces. The restaurant is open for breakfast, lunch and dinner. They also offer catering for events such as weddings, graduation parties, office parties, baby showers and birthday parties. For more information, please call (863) 937-3838, visit http://www.atrainbbq.com, or follow them on Facebook where they post the restaurant's specials daily. A-Train B.B.Q. is located at 2844 Lakeland Highlands Road, Lakeland, FL 33803. It is open Monday-Thursday from 6 a.m. to 3 p.m. and Friday and Saturday from 6 a.m. to 8 p.m.
About the NALA™
The NALA offers small and medium-sized businesses effective ways to reach customers through new media. As a single-agency source, the NALA helps businesses flourish in their local community. The NALA's mission is to promote a business' relevant and newsworthy events and achievements, both online and through traditional media. For media inquiries, please call 805.650.6121, ext. 361.