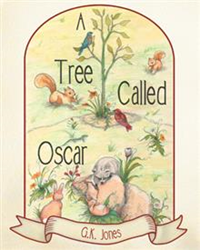 ARROYO GRANDE, Calif. (PRWEB) January 18, 2017
This story is about a tree called Oscar. From infancy to maturity, Oscar's progression shows the importance of nurturing parents and friends and learning to adapt to life's difficulties. "A Tree Called Oscar" (published by LifeRich Publishing) teaches young readers to compromise for the sake of each other's happiness.
Author G.K. Jones says she was inspired to write by her grandchildren. "I want parents to remember to hold their children near, but not so near that they can't spread their wings," she says.
Readers can expect a narrative filled with love and compassion paired with colorful illustrations depicting the peaceful quality of nature and its inhabitants.
An excerpt from "A Tree Called Oscar":
They asked Willie, the squirrel, if he would plant their special seed on the mound that rose from the meadow so that all the forest could watch it grow.
Willie planted the seed as his friends watched.
"A Tree Called Oscar"
By G.K. Jones
Hardcover | 8 x 10 in | 52 pages | ISBN 9781489706577
Softcover | 8 x 10 in | 52 pages | ISBN 9781489706560
E-Book | 54 pages | ISBN 9781489706553
Available at Amazon and Barnes & Noble
About the Author
G.K. Jones is an architect, builder, furniture maker, sculptor and artist who studied at Long Beach State and UCLA. She did paintings for television shows and has many works in private collections. She has two children and three grandchildren, and currently lives with her three dogs in Arroyo Grande.
LifeRich Publishing, the strategic publishing partnership of Reader's Digest and Author Solutions, LLC, was created to provide all writers a platform for sharing their stories, recipes, advice and more. LifeRich authors will benefit from a wealth of editorial design, marketing and education resources, specially created by Reader's Digest editors for the enrichment of these LifeSmart individuals. Books can be published in print, ebook or audio formats, with additional distribution to up to 25 million Reader's Digest customers through its online properties. Follow @LifeRichPub on Twitter or "Like" us at facebook.com/LifeRichPublishing for the latest updates.
###