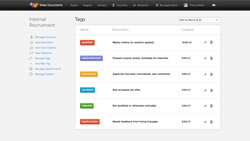 They had more than the right skillset – they had a passion for programming, which came through in the finished product.
San Francisco, California (PRWEB) August 15, 2013
In the startup world, innovation is key. It takes intelligence, hard work, perseverance and a talented team with those same qualities to succeed. Unfortunately, putting together such a team isn't always easy, especially in the tech world; many of the best programmers and developers are swooped up by tech-giants like Google, Apple and Microsoft.
The few that aren't are like hard-to-find gems – highly valuable, but founders can spend a lot of time looking and come up with dirt.
Scott James, CEO and founder of tech-startup Wake Documents, recently launched an applicant and registrant tracking system created by his twelve-member team of freelancers who hail from 10 different countries. The cloud-based application will be competing against corporate behemoths such as Oracle to earn a top spot in the talent acquisition systems industry.
"Our software is built a lot like our company; intuitive, lightweight and responsive. That's also what makes us competitive. I would argue that our lack of bureaucracy and corporate structure is one of our biggest advantages," explains James.
During its initial development, Wake Documents recruited programmers from the community surrounding the Yii framework, an open-source project that serves as the foundation of the company's cloud-based software. As a result, the team was able to rely on the same principles that open-source contributors use, such as version control, to ensure that the sum of their parts equaled a whole.
"I needed a group of developers that were intimately familiar with the Yii framework and able to work as a cohesive unit across long distances, so I figured that the community who built it would be a good place to start. They had more than the right skillset – they had a passion for programming, which really came through in the finished product," says James.
The team used Skype, GitHub, Trello and other similar services to eliminate many of the issues that prevented telecommuting from being effective in the past; using cloud-based technology, it's possible to have face-to-face chats, collaborate on specific tasks and manage entire projects in real time.
With such a competitive market in the US, he says, "widening your talent search beyond the country can make a big difference: There are 313.9 million people in the United States and more than 7 billion in the entire world. When you're looking for someone with a wealth of experience in a highly specialized skillset that will work for startup wages, the odds aren't really in your favor – why limit your chances even more?"
To fill non-technical positions, James also suggests a shotgun approach: "Work with several applicants in a freelance capacity first; hire five, keep one or two. It's affordable, noncommittal and paints a much better picture of what to expect in the future."
The other piece of the puzzle is ensuring that qualified applicants apply in the first place, which is largely a numbers game. Writing an engaging company description, targeting industry-specific job boards in addition to high-traffic ones and asking current employees for referrals are good ways to increase exposure and get more applicants.
"The more exposure a job listing receives, the more likely it is that the right applicant will apply, although there's one caveat – he or she will probably be hidden amongst dozens of other applicants. Coincidentally, I have just the solution!" James smiles.
"Applicant tracking systems, such as Wake Documents, are used to identify the best applicants quickly and easily. For startups, the main benefit will be that exponentially more applications can be processed in a given amount of time; you can filter applicants by their answers to questions, custom user-defined tags, availability, language fluencies, location and almost anything else you can think of.
"Once you've narrowed your pool of applicants down, you can review comments, schedule interviews and send mass emails to accepted or rejected applicants to let them know," James explains.
About Wake Documents:
Wake Documents, founded in 2012, has positioned itself as an easy-to-use, turn-key applicant tracking system focused on providing a better user experience and reduced learning curve compared to its competitors. The company maintains a powerful international presence with sales reps in the US, Chile and Hong Kong.
###
MEDIA CONTACT:
Billy Chappell, Marketing Director
bchappell(at)wakedocuments(dot)com
(866) 897-1497
High-resolution photos, media interviews and further information is available by request; you have full permission to re-write this article to suit your online/offline publication. Please contact Billy Chappell via the contact information above if you have any questions or further inquiries about Wake Documents.