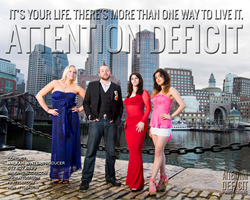 It's your life.There's more than one way to live it.
Cannes, France (PRWEB) May 15, 2014
Attention Deficit producer Malkah Winter, joined by host Joshua Weston, is going global and bringing her unique Boston style event coverage to the 2014 Festival de Cannes and Marche du Film - the Cannes International Festival of Film. One of the most prestigious film festivals in the world, this year's festival will take place between May 14 and 25. Attention Deficit will deliver an insider view on the latest films, fashion, celebrities, and more - all in its fresh, cutting edge style. "Whether we're interviewing celebrities on the red carpet or industry professionals behind the scenes," shares Malkah Winter, "we try to share our experience in a way that allows our viewers to feel the experience first hand, as if they themselves were there."
In 2010, Malkah Winter broke ground with InOverOurHeads, the first unscripted Jewish reality television show. Referred to by the Huffington Post as "the Real Housewives of Orthodox Judaism," it provided a window into the lives of struggling young parents living in a suburban Jewish community. The show received a popular reception on the Jewish Life Television Network (JLTV), the world's first full-time 24/7 Jewish television station. JLTV broadcasts via major cable networks and satellite and currently has a reach of 26 million US homes, as well as 80 million households in Europe, North Africa and the Middle East.
With Attention Deficit, Malkah, who attended Parsons School or Design and is a graduate of the School of the Museum of Fine Arts, shifted her focus to Boston's nightlife and young artist community. Coverage has included major local events, such as the Boston Comedy Festival, Microsoft Celebrity Gaming Challenge, Boston Fashion Week, and Red Sox World Series celebrations. After covering the worldwide premier of the film Millwood, Malkah was invited to cover the 2014 Academy Awards. "While Boston is an amazing city, a true hub of creativity," Malkah confides, "going to the Oscars was the fulfillment of a life-long dream." In addition to continuing coverage of local Boston events, Malkah looks forward to bringing Attention Deficit to major International entertainment and cultural events throughout the year.
Malkah continues the legacy of her father Oscar Ostroff, a well-connected Yiddish theater producer who gave many Hollywood greats, such as Tony Curtis and Leonard Nimoy, their starts.
Attention Deficit will be posting video shorts, photos and updates to http://www.attdef.com throughout the festival. Attention Deficit will also reach European audiences through its partnership with Italian press agency Film4Life.