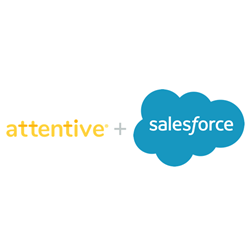 Attentive's integration on AppExchange is a testament to the continued investment in our customers and the broader marketing technology ecosystem," said Allison Kelly, Head of Growth Strategy at Attentive
NEW YORK (PRWEB) August 25, 2020
Attentive®, a personalized text messaging SaaS platform for leading brands and organizations, today announced the launch of their text message marketing app on Salesforce AppExchange, empowering customers to grow text messaging and email opt-in lists simultaneously, send text messages that drive revenue, and enhance customer marketing campaigns as a result of the integration between Attentive and Salesforce.
Salesforce Marketing Cloud and Attentive customers now have access to an integrated marketing solution that enables them to utilize Attentive's mobile messaging product to grow SMS and email opt-in lists and send that data to Marketing Cloud for cross-channel marketing.
Customers such as Stonewall Kitchen, a specialty foods retailer, use Attentive and Salesforce together to maximize revenue potential and more effectively engage with their audiences.
"Leveraging data insights across each of our customer engagement channels is crucial to our marketing strategy," said Ian Marquis, E-Commerce Manager at Stonewall Kitchen. "Now we can continue to drive SMS list growth with Attentive and access that data directly through Salesforce Marketing Cloud, helping us unify customer engagement touchpoints and gain more insight into our customers."
Comments on the News

"Attentive's integration on AppExchange is a testament to the continued investment in our customers and the broader marketing technology ecosystem," said Allison Kelly, Head of Growth Strategy at Attentive. "As we continue our rapid growth and work to accommodate the demands of the marketplace, our text message marketing app for Salesforce will allow further integration and innovation for our shared customers."
"Attentive is a welcome addition to AppExchange, as they power digital transformation for customers by providing solutions to scale subscriber growth," said Woodson Martin, GM of Salesforce AppExchange. "AppExchange is constantly evolving to enable our partners to build cutting-edge solutions to drive customer success."
About Salesforce AppExchange
Salesforce AppExchange, the world's leading enterprise cloud marketplace, empowers companies to sell, service, market and engage in entirely new ways. With more than 5,000 listings, 7.5 million customer installs and 90,000 peer reviews, it is the most comprehensive source of cloud, mobile, social, IoT, analytics and artificial intelligence technologies for businesses.
Additional Resources

Salesforce, AppExchange, Marketing Cloud and others are among the trademarks of salesforce.com, inc.
About Attentive
Attentive® is a personalized mobile messaging platform for innovative brands & organizations that can quickly become a top 3 revenue channel. Using real-time behavioral data, Attentive automatically sends engaging text messages to each subscriber at every step of the customer lifecycle. Over 1,000 leading businesses rely on Attentive and see strong performance, like 30%+ click-through rates and 25x+ ROI. Attentive has raised over $163 million in venture funding—with the most recent raised in April 2020—and is backed by some of the world's leading venture firms, including Sequoia, Sequoia Capital Global Equities, Coatue, IVP, Bain Capital Ventures, Eniac Ventures, NextView Ventures, and High Alpha (a venture fund led by Scott Dorsey). To learn more about Attentive or to request a demo, visit http://www.attentivemobile.com.