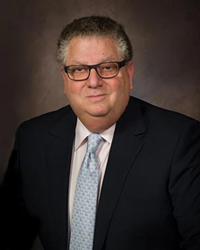 The most fulfilling aspect of my life is working on behalf of injured clients and helping them to obtain the justice they deserve.
Southfield, MI (PRWEB) June 17, 2014
Goodman Acker, P.C., is pleased to announce that Partner and Attorney Barry J. Goodman has been named as a 2014 Michigan Super Lawyer in the area of personal injury law. This is Goodman's eighth consecutive year for being awarded with this honor.
"I knew I wanted to become a plaintiff's lawyer from the time I was a child, and my father, a postal employee, was injured in a traffic accident while on the job. His resulting injuries left him dependent on federal workers' compensation for the rest of his life. I did not think justice was provided to him, and I did not want that to happen to others," Goodman says. "The most fulfilling aspect of my life is working on behalf of injured clients and helping them to obtain the justice they deserve. It is a great honor to not only be named a 2014 Michigan Super Lawyer but also to be recognized with this honor for eight consecutive years."
Super Lawyers is a rating service of outstanding lawyers from more than 70 practice areas who have attained a high-degree of peer recognition and professional achievement. The selection is multi-phased and is patented (U.S. Pat. No. 8,412,564) by the United States Patent and Trademark Office. The selection process includes peer nominations and evaluations as well as third-party research. The honor extends to no more than five percent of lawyers in each state. The result is a list of exceptional attorneys practicing all different areas of law throughout the U.S.
Please see the Michigan Super Lawyers website to view Mr. Goodman's listing.
Goodman has devoted his professional life to helping victims attain justice after being involved in a personal injury accident. Goodman received his undergraduate degree from Bradley University in 1974 and his J.D. from Stetson University College of Law in 1977.
His legal career began in Florida with a small general practice firm, where he stayed for two years before moving to Michigan. Goodman teamed up with Gerald H. Acker in 1993, where they formed the Southfield based law firm, Goodman Acker, P.C.
In addition to being named a Michigan Super Lawyer, Goodman has also been honored with the Champion of Justice Award from the Michigan Association for Justice (MAJ) as well as the Wings of Justice Award by the Oakland County Democratic Party.
He has also served as the Former President of the MAJ and is a longtime board member of the Anti-Defamation League.
About Goodman Acker, P.C.
Goodman Acker, P.C., concentrates on plaintiff's personal injury accident cases, including Michigan auto accidents, motorcycle accidents, bicycle and pedestrian accidents, slip and fall accidents, medical malpractice, nursing home neglect, dog bite injuries and attacks, wrongful death cases and any other types of personal injury accident matter. The firm handles cases in the city of Detroit, the Tri-County area of Macomb, Oakland and Wayne counties and throughout the state of Michigan. For more information about the law firm of Goodman Acker, P.C., and Attorney Barry J. Goodman, please call (248) 483-5000 or use the firm's online contact form.