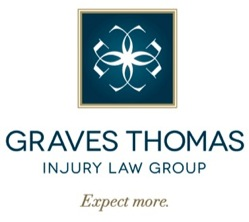 Graves Thomas Injury Law Group Opens Port St. Lucie Office
Vero Beach, Florida (PRWEB) December 02, 2016
Graves Thomas Injury Law Group today announced the opening of its Port St. Lucie office. A ribbon cutting ceremony will take place Thursday, December 8, 2016 from 5 – 7 PM at 2100 SE Hillmoor Drive, Ste. 201 in Port St. Lucie. The new office is the firm's third location along the Treasure Coast. The firm maintains its Vero Beach headquarters, as well as its Melbourne office.
"We're expanding to better meet the needs of families and Veterans in Port St. Lucie," said Founding Attorney Joe Graves. "Over the years we have found that the best way to maintain our personalized brand of law is to get to know our clients. That starts by being in their neighborhood so that we can act swiftly on their behalf."
Guests of the ribbon-cutting event will be treated to complimentary hors d'oeuvres, drinks and the chance to win two holiday giveaways. RSVPs are encouraged by December 6th to lyndsey(at)gravesthomas(dot)com.
About Graves Thomas Injury Law Group
Graves Thomas Injury Law Group is an injury law firm dedicated to representing individuals and family members impacted by a serious injury, illness or disability. For more information about Graves Thomas Injury Law Group, visit gravesthomas.com or call 772.569.8155.