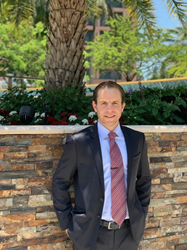 "It is truly an honor to be recognized as an Elite Lawyer by my fellow peers in the legal community. At SK&A, we take pride in providing our clients with high-quality representation by utilizing a team-centered, family approach." Kotlyarov commented
BOCA RATON, Fla. (PRWEB) April 30, 2020
Elite Lawyer is a directory and rating service that awards and recognizes attorneys with a proven record of achievement in their practice areas and who have received acknowledgment from their peers in the legal community, local Bar Associations, and other committees. The honor is only bestowed upon lawyers who have met or exceeded the criteria of a rigorous, multi-phased selection process.
Eduard lives by the motto that knowledge is power. This is not only reflected through his devout advocacy of his clients, but also through the many professional and personal connections that he has acquired over the years. As a civil litigator, Eduard represents both plaintiffs and defendants in a wide array of civil disputes. He also advises several multi-national corporations, limited liability companies (LLCs), partnerships, and sole proprietors in many areas of business transactions and litigation.
Before embarking on his law career, Eduard acquired almost 20 years of professional business experience through a variety of entrepreneurial ventures and partnerships. Throughout his business career, he developed and oversaw regional, national, and international corporate management and marketing initiatives.
In addition to his work at SK&A, Eduard has just recently co-founded (along with his wife Jessica Kotlyarov, MD) a Real Estate Brokerage and Investment firm, Select Pinnacle Properties LLLP (SPP), which is based in Tupelo, MS. SPP is focusing on real estate investments, management, brokerage, and development.
After receiving a Master of Business Administration degree and a Master of Science degree, Eduard earned his Juris Doctorate degree from Dwayne O. Andreas School of Law. He is also a Licensed Real Estate Broker in Mississippi and a Notary Public in Florida as well as being native fluent in Spanish.
"It is truly an honor to be recognized as an Elite Lawyer by my fellow peers in the legal community. At SK&A, we take pride in providing our clients with high-quality representation by utilizing a team-centered, family approach. I look forward to expanding and continuing to advocate for our corporate clientele to achieve their goals on the path to success," Kotlyarov commented.
About Seibane, Kotlyarov & Associates PLLC
SK&A focuses its practice on business and corporate law, civil litigation, and real estate law matters. The skilled attorneys at SK&A take the time to understand their clients' goals and protect their rights in all cases. Representing clients in South and Central Florida, and Mississippi, they are committed to minimizing risk, avoiding liability, and maximizing profit for the best possible outcomes.
To learn more about SK&A, visit https://sk-firm.com/ or call 888-970-4044.
About Elite Lawyer
Only the most outstanding attorneys receive the Elite Lawyer award, which sets these exceptional attorneys apart from their peers and gives consumers added peace of mind when searching for top-notch legal representation in their area. Elite Lawyer is open and working remotely during the Coronavirus crisis, serving our members across the country.
To learn more about Elite Lawyer, visit https://www.elitelawyer.com/ or call 630-209-6660.