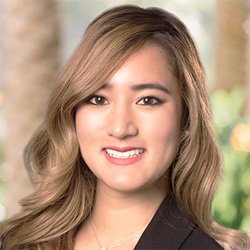 MISSION VIEJO, Calif. (PRWEB) May 13, 2020
Tinnelly Law Group, PC, one of the top California HOA law firms, is proud to announce the addition of attorney Vivian X. Tran, Esq. to the firm.
Ms. Tran obtained dual degrees from the University of California, Davis with a Bachelor of Arts in Economics and a Bachelor of Science in Biological Sciences. She graduated with her Juris Doctorate from the University of the Pacific, McGeorge School of Law where she focused on business and international law. During law school, she was a research assistant for the Nepal Treaty Negotiation BLA Project and participated in the Anthony M. Kennedy American Inn of Court. She also received the Capital Commendation for Public Service Award for her volunteer efforts.
Vivian garnered clerking experience from her externship with Chief Judge Ronald H. Sargis, at the United States Bankruptcy Courts Eastern District of California. She is also a licensed mediator and obtained extensive negotiation skills through the Program on Negotiation (PON) and 1983 Civil Rights cases she co-mediated with Magistrate Judges Kendall J. Newman and Craig M. Kellison.
Prior to joining Tinnelly Law Group, Vivian served as a litigation attorney practicing in HOA, complex business, real estate, and employment law in Los Angeles. She was the handling attorney representing a world-renowned tech company in a complex breach of contract with damages exceeding nine figures. Regarding HOA matters, Vivian has handled many insurance defense litigation cases dealing with contracts, fraud, negligence, breach of fiduciary duty, and title among other things. She is no stranger to the interpretation and enforcement of governing documents, third-party vendor contracts, settlement negotiations, and offering preventative litigation measures to community managers and Boards of Directors.
"Vivian's experience representing HOAs in a variety of complex insurance defense cases adds significant value to our team and our growing family of clients," says Steve Tinnelly, Managing Partner. "She brings an infectious level of energy, enthusiasm, and pride in her work that reinforce our firm's culture and core values. We are thrilled to have her."
Vivian is fluent in Vietnamese and conversational in Italian. In her spare time, she volunteers with San Diego's Habitat for Humanity, dabbles in the housing market with her California real estate license, and enjoys the beautiful beach sunsets of San Diego.
About Tinnelly Law Group
Tinnelly Law Group, PC is recognized by the community association industry as one of the top California HOA law firms. Since the firm's founding in 1989, 100% of its efforts have been dedicated to representing HOAs and providing them with sensible and cost-effective solutions to their diverse legal problems. It counsels hundreds of HOAs throughout California through legal issues related to corporate governance, enforcement, maintenance, insurance, litigation and transactional matters. Tinnelly Law Group recently launched FindHOALaw, a robust resource for HOA law and legal information. Its substantial volume of content and easy-to-use interface help users better understand the unique body of law governing HOAs in California. Tinnelly Law Group also provides its clients with access to comprehensive assessment collection services through the use of its affiliate, Alterra Assessment Recovery. Tinnelly Law Group has offices in Orange County, San Diego, Riverside County, Los Angeles, and the San Francisco Bay Area. Member BIA, CAI and CACM.