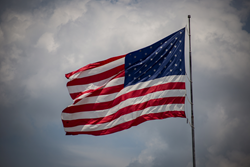 Please join me and the other businesses in this area to make this drive the best to show appreciation for our veterans and give them back something in return.
Gainesville, TX (PRWEB) April 19, 2017
With Memorial Day fast approaching on May 29, attorney Richard M. Barron, a life member of the Disabled American Veterans and Military Order of the Purple Heart, is hosting a donation drive to collect toiletries to send to the troops and to help local veterans of VFW Post 1922 in Gainesville, TX. He will also be collecting shower shoes for the Bonham VA Hospital. Donated items can be dropped off at his office, located at 209 East Main Street, Whitesboro, TX.
"It means a lot for those in a war zone, away from home or homeless to be remembered and appreciated for their service to their country. I know firsthand when I was in Vietnam and began receiving care packages from home by people I had never met, but were willing to take the time to put together and send these packages to me and others in our unit," said Barron, a Cobra helicopter aircraft commander in Vietnam and recipient of 28 Air Medals for having flown more than 725 combat missions, the Distinguished Flying Cross, the Air Medal for Valor, the Bronze Star, a Purple Heart, and the Vietnamese Cross for Gallantry. "Please join me and the other businesses in this area to make this drive the best to show appreciation for our veterans and give them back something in return."
According to the National Coalition for Homeless Veterans, an estimated 39,471 veterans are homeless on any given night. Furthermore, two-thirds served our country for at least three years, one-third were stationed in a war zone, and approximately 1.4 million other veterans, meanwhile, are considered at risk of homelessness due to poverty, lack of support networks and dismal living conditions in overcrowded or substandard housing.
"We greatly appreciate anyone wanting to help make easier the lives of the vets and troops that have sacrificed and are sacrificing for our freedom and our country," said Lisa Sieger, Auxiliary President of VFW Post 1922.
Barron has teamed up with the NALA, a boutique marketing agency headquartered in Ventura, CA, through its Charity Branding program, which enables businesses to align with great causes to increase awareness. One of the NALA's charity partners is The Greatest Generations Foundation (TGGF), which is dedicated to honoring the sacrifices of veterans by returning them to their former battlegrounds, cemeteries and memorials. To date, TGGF has helped bring back 3,600 veterans to Europe and Asia.
"On behalf of TGGF, we have set up this cause marketing program so that local businesses can help local veteran organizations," said Tiffani Tendell, the NALA's Press Manager and Charity Director. "Charity co-branding is a success in and of itself. It is a simple, yet fantastic way for a business to give back to the local community and help raise awareness for a cause."
About Texas Elder Law Attorney Richard M. Barron
Richard M. Barron is a member of the Texas and National Academy of Elder Law Attorneys, and has been a member in good standing with the Texas Bar Association since 1981. Practice areas include life care planning, wills, trusts, power of attorney for financial affairs and medical, Medicaid and Veteran's benefits, asset protection planning, estate and disability planning and asset-based long-term care planning. For more information, call (800) 939-9093, or visit http://www.texaselderlawattorney.com. Texas Elder Law Attorney Richard M. Barron has offices in Plano, Denton and Whitesboro, TX.
About the NALA™
The NALA offers small and medium-sized businesses effective ways to reach customers through new media. As a single-agency source, the NALA helps businesses flourish in their local community. The NALA's mission is to promote a business' relevant and newsworthy events and achievements, both online and through traditional media. For media inquiries, please call 805.650.6121, ext. 361.