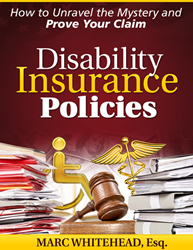 Disability Attorney Marc Whitehead is intent on educating those who have been denied long term disability benefits.
Houston, TX (PRWEB) January 13, 2016
The Long Term Disability Insurance attorneys at Marc Whitehead & Associates understand that a disability can have a disastrous effect on a person and their family. If an injury or disease prevents an individual from working, he or she may be eligible for long term disability Insurance benefits.
Employers often offer disability insurance policies so that qualified individuals who cannot work may receive benefits. The policy premiums are paid for by both the employer and through an employee's paycheck deduction. Often, workers that have paid policy premiums are unaware that they can file for disability benefits.
If an employee does file a claim for disability benefits, that claim may be delayed or denied and the person is left with no income and little hope for assistance. Whitehead's book Disability Insurance Policies: How to Unravel the Mystery and Prove Your Claim will prove invaluable in educating disabled workers.
"I am committed to fighting for the rights of individuals, workers and veterans who are injured or disabled," said Mr. Whitehead. "It is not easy for many citizens to fight the red tape and bureaucracy to file a claim for long term disability, and we want each person to have as much knowledge as possible. We know the intricacies of state and federal insurance laws and we fight for the rights of our clients and the disabled across the country."
Marc Whitehead and his legal team have over 20 years of experience successfully handling long term disability insurance claims involving a physical or mental injury or illness. For more information on the types of cases we handle, please visit our website, http://www.disabilitydenials.com
About Marc Whitehead & Associates, Attorneys at Law L.L.P.
Marc Whitehead is one of a very small number of lawyers who is Board Certified in Social Security Disability Law by the National Board of Social Security Disability Advocacy and Board Certified in Personal Injury Trial Law by the Texas Board of Legal Specialization. Marc Whitehead & Associates disability and personal injury lawyers provide superior legal services to clients nationwide in claims involving mass tort civil actions, veterans disability, social security disability, and long term disability.
For more information, please contact:
Sarah Akin
Marc Whitehead & Associates
Attorneys at Law, L.L.P.
1-800.562.9830
sarah(at)marcwhitehead(dot)com
http://www.disabilitydenials.com