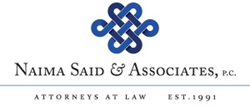 There is so much aggressive implementation of immigration policies in our neighborhoods and at the airports and we need to get the word out.
Columbia, MD (PRWEB) March 28, 2017
Immigration attorney Naima Said, founder of Naima Said & Associates, P.C., is scheduled to appear on video in a Facebook Live Q&A on Tuesday, April 18, from 7-8 p.m. EST. Said will be answering questions about President Trump's travel ban. Questions can be Tweeted in advance to @NaimaSaidAssoc, using #AskNaima. This will launch a once-a-month Facebook event.
"There is so much aggressive implementation of immigration policies in our neighborhoods and at the airports and we need to get the word out," said Said, who has a "Superb" Avvo rating and is an AVVO Clients' Choice 2016 winner.
Said will be able to see people asking questions while she is live and will answer them on the spot. In addition to answering questions about the travel ban, Said, who has appeared on WBALTV (an NBC affiliate), ABC2, Voice of America and Al Jazeera International, will be answering frequently asked questions about immigration.
Said has also volunteered as an immigration attorney at Dulles Airport and will continue her volunteer efforts, given the second travel ban which the administration intends on appealing. "On one occasion, after the first ban, I met an Iraqi man at Dulles who had assisted U.S. forces during the war and is a U.S. citizen," noted Said. "His mother was denied boarding her flight in Turkey, but his brother and his family were allowed to board, leaving the mother behind."
The family was separated in Turkey and the mother was stranded. At that time the courts had ordered a stay on the ban, but the airlines were apprehensive on the chaotic and sudden rollout of the ban and did not want to incur a fine for bringing passengers who were not allowed to enter the United States. "We tried hard to convince the airlines that the mother was allowed to enter the U.S. because of the stay," concluded Said. "Together, with other volunteers, we helped the Iraqi man and a week later his mother arrived in the U.S. Also, recently, a couple, a U.S. citizen along with his Turkish wife who holds a green card, signed attorney appearance notices which they took with them to present at Customs when they return should they encounter problems."
About Naima Said, Naima Said & Associates, P.C.
Naima Said is admitted to practice in the U.S. Court of Appeals for the Fourth Circuit and U.S. District Court for the District of Maryland. She is a member of the New York State Bar and Maryland State Bar Association. Said & Associates, P.C. has dedicated its practice to serving immigrants, and is a multi-lingual firm with conversational Arabic and fluent Spanish, Swahili and English speaking staff. Practice areas include green cards, investment visas, citizenship, humanitarian visas, criminal alien deportation, H-1 sponsorship, immigration discrimination and employer audits. For more information, please call (410) 992-6602, or visit http://www.naimasaid.com. The law office is located at 5513 Twin Knolls Road, Suite 219, Columbia, MD 21045.
About the NALA™
The NALA offers small and medium-sized businesses effective ways to reach customers through new media. As a single-agency source, the NALA helps businesses flourish in their local community. The NALA's mission is to promote a business' relevant and newsworthy events and achievements, both online and through traditional media. For media inquiries, please call 805.650.6121, ext. 361.