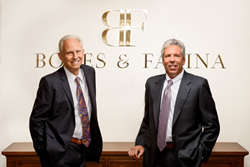 Palm Beach Gardens, Florida (PRWEB) February 26, 2014
Boyes & Farina, P.A., founded by attorneys, William Boyes and John Farina in 1994 is dedicated to assisting individuals, their families, foundations and charitable organizations in the preservation, management and transfer of personal wealth.
Bill Boyes has been Board Certified by the Florida Bar in Wills, Trusts and Estates for more than 25 years, and has been AV rated by Martindale-Hubbell for over 30 years. Much less than one-half of one percent of all Florida attorneys are board certified in Wills, Trusts and Estates. He has been named to the Florida Super Lawyers for nine consecutive years. Florida Super Lawyers represents outstanding lawyers from more than 70 practice areas. Bill has been a Fellow of the American College of Trust and Estate Counsel for over 15 years.
John Farina is a Florida Bar Board Certified Business Litigation Attorney and is also Florida Bar Board Certified in Wills, Trust and Estates. He has been named to the Florida Super Lawyers the past three years. He is a 2013 Top Rated Lawyer in Commercial Litigation and Trusts & Estates, both by American Lawyer Media and Martindale-Hubbell™. John is also AV-Rated by Martindale-Hubbell, the highest peer review rating attainable. John Farina is a Board Certified Civil Trial Advocate by the National Board of Trial Advocacy.
The firm of five attorneys assists clients in the development of estate plans, the administration of complex trusts and estates and the prosecution and defense of probate related litigation, including tax court controversies. For additional information on Boyes & Farina, P.A. please visit their website at http://www.boyesandfarina.com.