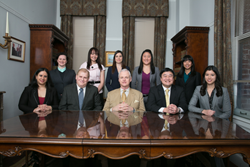 San Francisco, CA (PRWEB) February 02, 2017
Attorney Steven Adair MacDonald, founder of Steven Adair MacDonald & Partners, recently helped a client recover property in an ongoing eviction case. The San Francisco property has been the subject of multiple lawsuits ongoing for more than ten years to determine who the proper owner is. The court documents in the eviction case alleged that the defendants were non-paying guests of the property, and therefore were not entitled to the strong protections from eviction normally afforded to San Francisco tenants under the city's rent and eviction control ordinance.
Even so, the eviction case alone (Case No. CUD-15-654233 filed in the Superior Court of California County of San Francisco) has taken over a year to resolve and approximately $90,000 in attorney fees. However, after defeating numerous meritless motions and obtaining orders from the court sanctioning the defendants and their attorney, the court eventually found for MacDonald's client, the court-appointed receiver of the property. The sheriff's office evicted all occupants from the property last week.
About Steven Adair MacDonald & Partners, P.C.
The MacDonald firm represents both landlords and tenants in all forms of litigation in San Francisco and throughout the Bay Area, and employs a team of aggressive landlord-tenant experts. The firm handles cases involving evictions, rent-control disputes, habitability issues, commercial landlord-tenant disputes, short-term-rental issues and more. For more information or a free consultation, please call (415) 956-6488, or visit http://www.samlaw.net. The law office is located at 870 Market Street, Suite 500, San Francisco, CA 94102.
About the NALA™
The NALA offers small and medium-sized businesses effective ways to reach customers through new media. As a single-agency source, the NALA helps businesses flourish in their local community. The NALA's mission is to promote a business' relevant and newsworthy events and achievements, both online and through traditional media. For media inquiries, please call 805.650.6121, ext. 361.