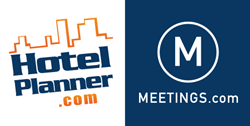 We are excited to be launching our newest attrition protection guarantee giving planners the opportunity to utilize this system to make sure their entire room block is used
West Palm Beach, FL (PRWEB) March 22, 2017
Even with the best planning and negotiations, hotel room attrition penalties can be one of the most challenging issues a group coordinator can experience. Meetings.com and HotelPlanner introduces an Attrition Protection" system, a new program designed to mitigate attrition penalties. Planners now have the ability to place unsold rooms up for sale through the company's private sales channels to minimize or eliminate attrition fees. By working closely with the hotel and client throughout the entire process, Meetings.com and HotelPlanner are able to provide a breakthrough solution that addresses the issue for both sides.
For meetings booked through Meetings.com and HotelPlanner, rooms that are not filled by the cutoff date will be released for sale to Meetings.com, HotelPlanner and their partners at the negotiated rate for the block. This is applicable to commissionable and net/non-commissionable room blocks booked through Meetings.com Membership participation clients. Both companies will also help cover a percentage up to 100% of the remaining attrition due if the room block is not able to be filled to the contractual level.
Meeting planners are responsible for providing ongoing notice and reports directly to Meetings.com or HotelPlanner regarding block utilization and of the need to sell unfilled rooms. For hotels, this means all rooms left in the group block be made available on the Meetings.com or HotelPlanner GDS code on or before the cutoff to reduce attrition as well as adhering to the lowest rate guarantee for these rooms in the market until they are sold.
"We are excited to be launching our newest attrition protection guarantee giving planners the opportunity to utilize this system to make sure their entire room block is used," stated Tim Hentschel, CEO of HotelPlanner and Meetings.com. "We are also able to help out our groups in a way that other group travel companies can't by creating a win-win solution for both meeting planners and hotels to still fulfill their requirements without the stress and challenges that come with attrition fees," continued Mr. Hentschel.
About HotelPlanner & Meetings.com
HotelPlanner.com provides group hotel booking services to 3,000 groups per day in the global group travel market. The company's group hotel booking service ensures the lowest rates by allowing customers to receive quotes online directly from hotel group sales managers. HotelPlanner allows customers to book hotels for business meetings, conferences, conventions, family reunions, weddings, extended stays, tours, military reunions, church events, and group travels. The company also provides mobile applications for booking group hotel reservations. The company owns and operates Meetings.com, a site that provides information, planning and booking services for group, meeting, and individual hotel stays for the corporate, associations and business to business enterprises. With a mission statement geared towards, "Bringing People Together," HotelPlanner & Meetings.com are the global experts for hotel sourcing, providing direct clients and market leading affiliates with unmatched group and event discounted room rates plus localized service levels not available at other travel companies. Founded in 2002, the company has offices in London, England (European Headquarters), Hong Kong (Asian Headquarters), West Palm Beach, FL (USA Headquarters), and Las Vegas, Nevada.