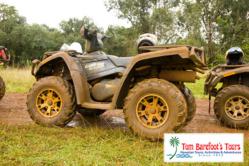 Poipu, HI (PRWEB) July 12, 2013
Maui'd Forever, Hawaii's premiere wedding planning and coordination company is dedicated to being an effective and cost effective way to provide for one's entire Hawaii wedding, reception needs. They have partnered up with Tom Barefoot's Tours providing an activity agent that gives experienced advice and discounts on most of Hawaii's activities.
They have just released a new YouTube video that shows an experience anyone traveling to the Island of Kauai Hawaii should experience. The activity in the video is an excursion provided by Kipu Ranch Tours. It is a regularly scheduled tour and is another in a series of informative videos.
Kipu Ranch Adventures offers ATV rides in Kauai's beautiful Kipu Valley. One of the most beautiful ranches in all of Hawaii is this Kipu Ranch on Kauai. Kipu Ranch has been the filming location for countless Hollywood blockbusters and the ATV rides offered here will provide views and landscapes that are among the most beautiful available on the island. The two ATV tours offered by Kipu Ranch Adventures each have their own advantages. The three hour tour takes you up along the ridges in the mountains to view the coastline headed toward Poipu from a breathtaking location. The four hour waterfall tour will tour the ranch and then provide a swim in a refreshing island waterfall. Both tours will see hills, valleys, forests, rivers, mountain views, wild pigs, pheasant, Nene Geese, fruit trees and fern grottos. This land was once the cherished location of Hawaii's royalty and one will easily see why Kipu Ranch is a location that is "fit for a King".
With these ongoing video productions Hawaii activity clients can accurately preview what they are getting involved with. Getting to Hawaii is usually a long plane ride and a costly vacation and many prefer not to waste valuable time and money doing an activity that is just not right for them. These previews help prevent these types of mistakes. Maui'd Forever clients also get an experience activity agent to assist them in the process of determining how they want to spend their time and money.
These agents have experienced many of the activities personally. Maui'd Forever suggests to their wedding and vow renewal clients that they preview the activities they think they might enjoy with links to YouTube videos or the profiles with pictures on their website.
This expert advice is one of the reasons why Maui'd Forever selected Barefoot. Most of the activities they provide are done so at a discount. So with the ability to reserve most any activity on any island at a discount with expert advice was what swayed Maui'd Forever to work exclusively with Barefoot. The clients are given a discount code (#1659) which they use when they speak to their agent. The discounts are already calculated into online sales for those that want to self-book on the website.
Maui'd Forever provides the link and code for those that use any of their wedding or vow renewal packages. They can do these packages on Oahu, Maui, Kauai and the Big Island of Hawaii