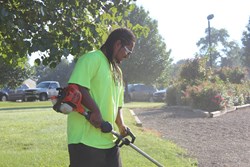 We establish connections with businesses to help us identify their true needs and then provide the necessary training and support so our youth are qualified to fill those positions. - Rodney Prystash, Director of Auberle's Employment Institute
Pittsburgh, PA (PRWEB) August 27, 2013
Auberle, a human service organization serving at-risk children and families, and local employers, have joined forces to provide tangible employment training to at-risk youth.
Auberle has partnered with Weavertown Environmental Group (WEG) and Massaro Corporation, among others, to develop workers for key positions or opportunities the businesses are looking to fill. Auberle developed key relationships with local businesses in order to train youth for jobs that already exist and where available trained workers were in short supply. The Employment Institute's programs were designed with input from area businesses that intend to hire the young people. Together, Auberle and employers are addressing the skill gaps that exist, while also creating opportunities for at-risk youth who historically struggle to obtain traditional markers in training, education and employment.
Auberle's partnership with WEG resulted in a modified version of the vocational program known as HAZWOPER (Hazardous Waste Operations and Emergency Response). Youth receive an extended, hands-on rendition of the program that results in participant's ability to earn their HAZWOPER certification, a nationally recognized certification that is required for positions in hazardous waste operations conducted in the United States under the Occupational Safety and Health Administration (OSHA). WEG provides their trainer and all of the necessary equipment for the course, while Auberle's Employment Institute generates participant referrals and offers critical soft skill training and support. Individuals with HAZWOPER certification are in high-demand within WEG and participants who successfully complete the program are offered the opportunity to apply for employment.
Massaro Properties - a commercial real estate company, partnered with The Auberle Employment Institute to help maintain several of their real estate properties, develop potential employees and provide at-risk youth with critically important workforce experiences. In this partnership, youth gain hands-on work experience, often a missing piece for many at-risk youth seeking employment. Massaro Properties hired a dedicated foreman who works alongside youth to train them and provide oversight while on the job.
Employers frequently cite soft skill development, such as work ethic, timeliness and accepting criticism, as big of a challenge as technical competency. The Auberle Employment Institute supports young workers by providing soft skill training before youth gain employment and then offers continued support throughout employment to ensure young people succeed and advance in their new positions.
For more information on Auberle's Employment Institute, visit http://www.auberle.org/employment-institute.
###
Since 1952, Auberle has been dedicated to community, strong families and successful youth. Auberle serves over 3,000 at-risk children and families annually in eight counties in southwestern Pennsylvania. Today, we offer 16 programs including preventative and community-based services, with 60% of our clients served in their home, school or in their community. Auberle's services include residential care, foster care, emergency shelter, in-home intervention, education, workforce development, drug and alcohol and mental health programs. Auberle is a recipient of the Wishart, Jr. Award for Excellence in Non-Profit Management and was named "Agency of the Year" in the United States by the Alliance for Children and Families.