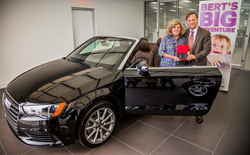 It was such a good deal that the raffle tickets went way faster than we thought they would
Atlanta, GA (PRWEB) November 11, 2014
Jim Ellis Audi Atlanta is pleased to say that all 1,000 raffle tickets sold for the raffle of a 2015 Audi A3 Cabriolet with 100 percent of proceeds benefiting Bert's Big Adventure. The winner, Ellen Gibson of Atlanta, was announced on "The Bert Show" on Q100 FM and will be happily picking up her new 2015 Audi A3 Cabriolet from Jim Ellis Audi Atlanta.
With 1,000 tickets sold at $100 each, this raffle raised $100,000 for Bert's Big Adventure. Founder of Bert's Big Adventure Bert Weiss, and host of "The Bert Show" on Q100, was thrilled at how quickly the tickets sold and how much money was raised to make dreams come true for the children his organization serves.
"It was such a good deal that the raffle tickets went way faster than we thought they would," Weiss said. "We didn't know what to expect with it being the first year we've done it, but Jim Ellis Audi Atlanta stepped right up and gave us a prime, beautiful, brand new car."
As a long-time partner with Bert Weiss and "The Bert Show" on Q100, Jim Ellis Audi of Atlanta was excited to be able to take their partnership with Bert to the next level by also partnering with Bert's Big Adventure.
"We really value and appreciate the partnership and what we can do for Bert's Big Adventure," Jim Ellis Audi of Atlanta General Manager Tracie Maloney said. "We are committed to do this promotion again next year and we have already been talking about how to make it more exciting. Look for us to donate the hottest new product again next year."
Bert's Big Adventure is a non-profit organization founded by Bert Weiss and wife Stacey in 2002. The organization provides a five-day all-expenses-paid trip to Walt Disney World for children with terminal and life threatening illnesses. The organization strives to help foster a communal bond between families facing financial hardships and challenges.
Jim Ellis Audi Atlanta donated a 2015 Audi A3 Cabriolet as a grand prize for the notable cause to raffle off with Bert's Big Adventure keeping 100 percent of the proceeds. All tickets were sold nine days before the raffle end date and $100,000 was raised to support Bert's Big Adventure.
For more information on this worthwhile organization, visit http://www.BertsBigAdventure.org.
About Audi Atlanta
Audi Atlanta is a full service new and used Audi dealer in Atlanta, GA, that has been in business since 1983. The dealership carries the largest inventory of both new and used Audis in the south. The Audi Atlanta service technicians are trained on Audi cars and SUVs, and boast a knowledgeable parts staff that proudly serves the Metro Atlanta area. Visit them at 5805 Peachtree Boulevard, Atlanta, GA, or online at http://www.audiatlanta.com.