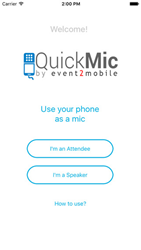 Siddharth Jhunjhunwala, CEO of event2mobile, said " Attendee & Speaker interaction is an integral part of most sessions during an event, workshop or conference. However, they are usually struggling to get hold of a mic to ask questions verbally."
(PRWEB) July 21, 2016
QuickMic is an audience response system app that facilitates smooth conversations in between attendees and speakers at events & conferences.
Siddharth Jhunjhunwala, CEO of event2mobile, said "We noticed very early on, that the Attendee & Speaker interaction is an integral part of most sessions during an event, workshop or conference. The attendees were using event2mobile app for all other forms of engagement like Real-time Polling, Surveys & Meeting Management. However, they are usually struggling to get hold of a mic to ask questions verbally."
He added, "The pass-the-mic approach is distracting, especially at large conferences and workshops. This observation made us wonder why couldn't attendees use their phone as a mic? So, we've launched QuickMic."
Varun Kashiv, Director of Business Solutions, adds "QuickMic is not just for corporate events. If speaker and attendee interaction is there at an event, it can be used to improve the overall experience. All you need is good internet connectivity, and you will never go unheard in the crowd again."
Technical Specifications :
Requires Android 4.1 or higher & iOS 7.0 or later.
QuickMic is Compatible with iPhone, iPad, and iPod touch.
About event2mobile:
event2mobile (e2m) is the leading secure provider of mobile apps for events & conferences. e2m is helping the world's leading banks, financial services companies, Government bodies, associations and Global 2000 companies to use mobility as a disruptive force to drive robust engagement and learning through their events.
Our clients include Thales, TD AmeriTrade, Bill & Melinda Gates Foundation, SingPost, National University of Singapore (NUS), Cognizant, LGT, ASME, Elsevier and more. event2mobile is headquartered in New York with regional offices in United Kingdom & Singapore.