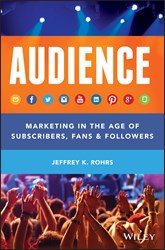 As consumers, we are in control. We decide which audiences to join, leave, or ignore altogether. Unfortunately, not all businesses appreciate this dynamic.
Hoboken, NJ (PRWEB) November 22, 2013
Every company needs audiences to survive. They are where they find new customers and develop more profitable relationships. And yet, most companies today treat their email, mobile, social media, and other direct audiences like afterthoughts instead of the valuable corporate assets they are.
With his new book, Audience: Marketing in the Age of Subscribers, Fans and Followers, Jeffrey K. Rohrs seeks to change this dynamic through adoption of The Audience Imperative. This powerful mandate challenges all companies to use their paid, owned, and earned media to not only sell in the short-term but also increase the size, engagement, and value of their proprietary audiences over the long-term.
"We like, follow and subscribe to our favorite brands, companies, and people anytime we want. We usually do so when it brings us joy, saves us money, or provides us with timely information. As consumers, we are in control. We decide which audiences to join, leave, or ignore altogether. Unfortunately, not all businesses appreciate this dynamic," says Rohrs. "They operate under the false assumption that paid media rules the roost and provides all of the audiences needed to fuel their business. That may have been the case at one point, but no longer."
As content marketing professionals have discovered, the days of "build it and they will come" are long gone. If businesses are looking for a way to gain a lasting advantage over their competition, they don't need to look further than building their email, Facebook, Google, Instagram, mobile app, SMS, Twitter, website, and YouTube audiences to last.
Most companies are still taking one step forward and two steps back in their customer relationships because they don't understand how to build and engage a long term online audience. As a result, the new job every marketer must learn is "Audience Building." This book is a "call to arms" that every underappreciated marketer can deliver to their C-Suite in order to permanently put an end to spammy social media strategies that gain a few quick sales and lose a long term audience.
Through research data and case studies, Audience details how marketers can gain a competitive advantage with proven strategies, including how to:

Embrace "Hybrid Marketing" to squeeze more value from "Fossil Fuel Marketing" (i.e., paid media)
Build "renewable energy sources" (owned email, mobile, and social audiences) that provide long-term competitive advantage
Create your own Proprietary Audience Development strategy
Market with the Red Velvet Touch: Serve the individual, honor their preferences, deliver relevant content, surprise them with access, and delight them with your company's humanity
Test and evolve efforts on an ongoing basis
Rohrs adds, "Just as consumer behaviors are changing thanks to mobile and social technologies, so too must our marketing organizations evolve to reflect our new realities. The time has come to stop treating proprietary audience as afterthoughts and instead embrace them for what they are – a source of critical business energy in need of investment, leadership, and support."
About the author
Jeffrey K. Rohrs is a recovering attorney, life-long Cleveland sports fan/victim, and pied piper of common-sense marketing advice. As VP of Marketing Insights for ExactTarget, a salesforce.com company, he co-created and produces the award-winning SUBSCRIBERS, FANS & FOLLOWERS Research Series—the world's first and longest-running examination of consumer relationships with brands through email, mobile, and social channels.
For addition information about AUDIENCE and its author, please visit http://www.AudiencePro.com and follow him on Twitter (@jkrohrs).