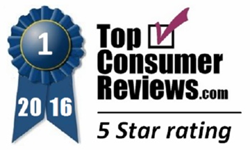 Audible has one of the largest selections of Audiobooks on the market... (they) earn our top rating for Audiobooks in 2016.
Overland Park, KS (PRWEB) July 22, 2016
TopConsumerReviews.com recently awarded their highest five-star rating to Audible, an industry leader among retailers of Audiobooks.
Audiobooks have become one of the most popular ways to enjoy books. As iPods and other MP3 players have decreased in price, more individuals are using those devices to listen to their favorite bestsellers while they work, exercise, or travel. While some public libraries make audiobooks available to their patrons, they often don't have a wide selection from which to choose, or the wait lists for current favorites can be months long. Online audiobook retailers provide book lovers with the best possible selection, and at prices that everyone can afford.
"Audible has one of the largest selections of Audiobooks on the market," explained Brian Dolezal, of TopConsumerReviews.com, LLC. "With over 300,000 titles to choose from, listeners can find everything from current bestsellers to more obscure titles across a range of genres, from Political Nonfiction to Classic British Comedy and much more. Their membership plans allow customers to access anywhere from one book a month up to 24 audiobook downloads at once, making it simple to grab a book for the daily commute or stock up on reading material for a long road trip. Audible earns our top rating for Audiobooks in 2016."
To find out more about Audible and other providers of Audiobooks, including reviews and comparison rankings, please visit the Audiobooks Products category of TopConsumerReviews.com at http://www.topconsumerreviews.com/audiobooks/.
About Audible
Audible, Inc., an Amazon.com, Inc. subsidiary, is the leading provider of premium digital spoken audio information and entertainment, offering customers a new way to enhance and enrich their lives every day. Audible was created to unleash the emotive music in language and the habituating power and utility of verbal expression. Audible content includes more than 300,000 audio programs from leading audiobook publishers, broadcasters, entertainers, magazine and newspaper publishers, and business information providers. Audible is also the preeminent provider of spoken-word audio products for Apple's iTunes Store.
About TopConsumerReviews.com
TopConsumerReviews.com, LLC is a leading provider of independent reviews and rankings of hundreds of consumer products and services. From Audiobooks to Canvas Prints and Online Dating Sites, TopConsumerReviews.com delivers in-depth product evaluations in order to make purchasing decisions easier.