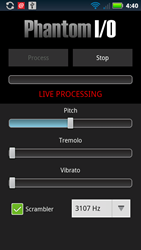 Albuquerque, NM (PRWEB) January 27, 2014
Phantom Data Services has released a new video demonstrating the audio scrambling capabilities of its Phantom I/O app for Android platforms. The video features a classic 1950s civil defense film with a scrambled soundtrack. Viewers can use the Phantom I/O app to unscramble the soundtrack and hear the original audio.
Phantom I/O is a multifunction audio processing app, providing a real-time pitch shifter, modulator, and band-inversion scrambler The app is designed for in-line processing. It samples audio through the Android device's microphone, transforms the audio in real-time, and sends the processed audio out the headphone jack for further recording or processing.
The app's capabilities provide for a wide variety of applications and industries. As the demo video illustrates, the app can provide an added layer of privacy to online videos. Musicians, recording artists, and audio engineers can also use the app to experiment with various effects in real-time, rather than waiting for post-processing tools.
Phantom I/O is currently available on the Google Play Store. For more information, visit https://play.google.com/store/apps/details?id=com.phantomio2.app.
Phantom I/O was developed by Phantom Data Services, LLC, a New Mexico limited liability company specializing in advanced web and mobile technology development. Phantom Data Services, LLC operates and maintains PhantomLink.com, a web service providing do-it-yourself surveillance camera systems and text messaging alarm solutions.