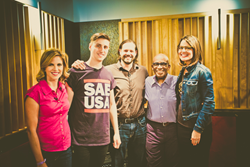 After several takes of singing the song 'Drag Me Down' by One Direction, the three anchors each delivered good performances, and Natalie especially seemed to be having fun and getting into the experience."
New York, NY (PRWEB) September 15, 2015
Savannah Guthrie, Natalie Morales, and Al Roker, anchors of NBC's "Today" show, worked with faculty members at SAE Institute's New York campus to experience the process of studio recording. The segment, which featured the anchors singing One Direction's top 5 pop hit "Drag Me Down", was part of a week-long "Anchors Schooled" series, which coincided with the first week of school across America.
"Savannah, Natalie, and Al were all beginners and a bit hesitant at first, but they soon loosened up and really enjoyed themselves," says SAE NYC Audio Technology Program Department Chair Jerry Dzerens, who is a graduate of SAE and produced the session. "After several takes, they each delivered good performances, and Natalie especially seemed to be having fun and getting into the experience."
The anchors' recording session included lessons in such areas as proper microphone technique (being aware of the proximity to the microphone when singing and pulling away slightly when hitting loud sections during the performance), body composure (using the entire body while performing and breathing properly), vocal range awareness (warming up the vocal cords and making sure to not push vocal limits), and knowing the song (practicing the song prior to recording, planning proper breathing, and being aware of the song structure during recording). The session lasted for two hours.
"All three anchors were very open to the ideas and input from both me and Sean Kalaras, who's a graduate of SAE and a lab instructor at our New York campus," says Dzerens, who has worked as an audio engineer for such indie artists as Desert Stars, Raccoon Fighter, Falling Androids, and Victoria Watts. "In terms of performance, Savannah really connected with the song and had a lot of control over her singing."
Along with producing and engineering the session, Dzerens and Kalaras also gave the anchors' singing a "make over", and added pitch correction, harmonizing, EQ, compression, and other studio techniques to polish the overall performances. A video of the anchors' made over version of "Drag Me Down" can be seen at the end of the segment, which is posted on the "Today" website.
About SAE
SAE Institute provides aspiring creative media professionals with a foundation of practical theory and valuable hands-on training in their chosen areas of concentration. Under the guidance of our faculty, which is comprised of working industry professionals, students gain the essential experience they need for entry-level jobs in the entertainment business. Our students are supported in their job searches by SAE's international network of alumni, many of whom are leaders in the music, film, game arts, and live performance arenas. We offer programs in audio technology across our seven US campuses, along with a music business program at select locations, all fully accredited and focused on preparing students for employment when they graduate. Bachelor's Degree programs in Animation, Audio, Film, Game Art & Graphic Design are available at the two locations of Ex'pression College, which is owned and operated by SAE Institute Group, Inc. SAE Institute Group, Inc. is a part of Navitas LTD. Learn more at USA.sae.edu.
About Navitas
Navitas is an Australian global education leader, providing pre-university and university programs, English language courses, migrant education and settlement services, creative media education, student recruitment, professional development, and corporate training services to more than 80,000 students across a network of over 100 colleges and campuses in 27 countries. Learn more at Navitas.com.