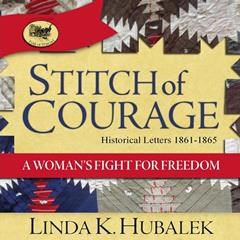 May the ears of AudioFile Magazine give a serious listen!
Lindsborg, Kansas (PRWEB) January 16, 2014
Butterfield Books Inc. has released three audiobooks about pioneer homesteaders, narrated by Pam Dougherty and Heather Elizabeth Lynn Farrar. The books, Trail of Thread, Thimble of Soil and Stitch of Courage are from the Trail of Thread series.
These audiobooks were written by Linda K. Hubalek and are available at Amazon's Audible, and iTunes. These pioneer fiction books are based on the author's ancestors' wagon trail journey to Kansas, and their trying times as they homestead on the prairie during the Civil War era.
Pam Dougherty, a professional actress on television, film, and stage narrated two audiobooks for the Trail of Thread series. A master of different accents, Pam used a southern accent for Deborah Pieratt from Kentucky for Trail of Thread, and a Midwest accent for Margaret Kennedy in Thimble of Soil.
Professional narrator Heather Elizabeth Lynn Farrar used her special voice to portray teenager Maggie Kennedy in Stitch of Courage.
Farrar said "There are few chances in a narrator's life when they are given the opportunity to step into the shoes of history through such a vivid character written as Maggie Kennedy. Voicing Maggie from a somewhat naïve' fifteen year old girl from Ohio, to a matured young woman settled in the new state of Kansas during the Civil War, was not only a privilege, but a pleasure with Linda K. Hubalek's brilliant and historically engaging writing. May the ears of AudioFile Magazine give a serious listen!"
"Pam and Heather did an excellent job of narrating these stories. It's very rewarding to hear my ancestors come alive through these audiobooks. It's like I'm getting to meet my great great grandparents in person. My ancestors homesteaded in Kansas in 1854, during the Bleeding Kansas and Civil War era, and now they are telling me their life story through their words," said author Linda Hubalek.
For more information about Linda K. Hubalek's historical fiction books, please look at her author website. These books (in print, ebook and audio) are available in stores, or online at Amazon.com, KoboBooks.com and BN.com.
About Butterfield Books Inc.:
Founded in 1994, Butterfield Books Inc. publishes and promotes books about Kansas and its pioneer history. The company is located in Lindsborg, Kansas, known as "Little Sweden USA."
About Linda K. Hubalek:
Author Linda K. Hubalek writes books about the pioneer women who made Kansas their home. Her books are published by Butterfield Books Inc. and they include the Trail of Thread, the Butter in the Well, and the Planting Dreams series.