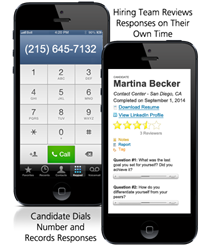 Philadelphia, PA (PRWEB) October 07, 2014
Async Interview, provider of online interviewing technology has announced they have released an audio-only solution to their suite of online interviewing technologies.
Call centers, virtual representatives and entry-level field positions are roles that may not require a pre-recorded video interview, but would benefit from hearing the candidate respond to pre-set questions via audio.
"Our clients found that there were areas of their business where video interviews were not necessary, but they enjoyed the automated notion of our pre-recorded solutions", says Chris Young, CEO of Async Interview. "Our audio-only interviews allow clients to benefit from pre-setting questions and then having candidates dial-in and record their responses anytime, anywhere."
The Audio Interviews provide a great alternative solution to Async Interview's video interviewing technologies and are built into their platform which allows candidates to be managed, organized and shared with the appropriate recruiters and managers.
For a demo of Async Interview's audio-only solution, contact 215-645-7132 or Request a Demo from our website.
About Async Interview
Async Interview is a technology and service company meeting the needs of corporate and outsourced recruitment professionals through its video interviewing technology. Its suite of video interviewing tools are built to address a process bogged down in inefficiencies, rising costs and laborious procedures. The cloud-based, real-time system gives recruiters, HR Professionals and hiring managers the ability to interview, evaluate, collaborate and hire the emerging workforce. http://www.asyncinterview.com