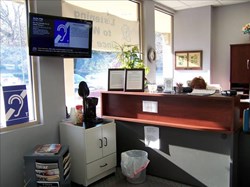 "Everyone notices I'm hearing better, but no one notices my hearing aid"
Asheville, NC (PRWEB) August 09, 2013
First time hearing aid buyers have a lot of questions, and even repeat buyers have many questions because hearing aid technology is constantly evolving. Before visiting an audiologist, many consumers prefer to do their own internet research and gather all of the available facts about different hearing aid styles, prices and options. To accommodate the desire for independent research, Asheville Audiology of Asheville North Carolina, recently added the downloadable Guide to Better Hearing to their website. The guide was created by the non-profit Better Hearing Institute and offers unbiased, current information about how to select a hearing aid and common pitfalls to avoid when purchasing. The Guide to Better Hearing is available for free, immediate download at http://www.ashevilleaudiology.com/guide-to-better-hearing/.
Dr. Cynthia Earle and the entire staff at Asheville Audiology hope that anyone seeking information about hearing aids in Asheville, NC will download the guide and contact them directly with any further questions and when they are ready to schedule an appointment.
About Dr. Cynthia B. Earle
Dr. Cynthia B. Earle has been a practicing audiologist in Asheville since 1981. She is a Magna Cum Laude graduate from the University of North Carolina at Greensboro, earning her B.A. in Speech Pathology and Audiology in 1977. She received her Master of Speech-Language Pathology and Master of Audiology from the University of South Carolina. In 2000 she earned her Doctor of Audiology (Au.D.) degree from the Arizona School of Health Sciences. In addition to all standard audiological services, Dr. Earle is qualified to fit Bone Anchored Hearing Aids (BAHA) and advise patients about Cochlear Implants.
Dr. Cynthia Earle is past president of the Audiological Resource Association and was awarded "Audiologist of the Year" in 1998. She was appointed by the governor of North Carolina to serve on the state licensing board for Speech Language Pathology and Audiology. Cynthia is available to speak to your small group and Audiology associations. She currently lectures at State and National events and serves as a clinical site for hearing aid research.
About Asheville Audiology Services
Asheville Audiology Services (AAS) is an Audiology practice. Our aim is to heighten and preserve your hearing. We can help with various types of noise protection and real ear measurements of musical equipment. If you have existing hearing loss, we can help you with the latest hearing aid technology including hearing aid screenings, preventive care advice and hearing aid accessories. Asheville Audiology is your local western North Carolina provider of hearing aids and accessories.
Contact:
Dr. Cynthia Earle
http://www.ashevilleaudiology.com
Asheville Audiology Services
900 Hendersonville Rd. Suite 105
Asheville, NC 28803
(828) 348-1690