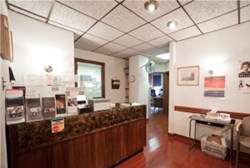 Brooklyn, NY (PRWEB) December 31, 2013
Audiology Affiliates has launched a blog on the practice website to share hearing health advice and tips with local residents on a regular basis.
The freshly established blog will feature weekly posts from the audiologists at Audiology Affiliates covering an extensive assortment of topics consisting of cutting-edge research into reversing hearing loss, new tinnitus treatment approaches, and answers to frequently asked questions. Articles will be added weekly and distributed automatically to Audiology Affiliates' Facebook and Twitter accounts for wider distribution.
Dr. Dennis Kisiel and the staff at Audiology Affiliates hope that all former and current patients that wear hearing aids in Brooklyn will visit the website regularly to see what is new on the blog. The blog will expand rapidly over time from its present small size to a library of hundreds of useful articles. As of today, visitors will find information on the following topics:

What to Consider in Electronic Earmuffs or Earplugs for Hearing Protection
Things to Know When It Comes To Open Fit Type Hearing Aids
Which Models of Hearing Aids is Ideal for Kids?
Setting up a Home Hearing Loop
Audiology Affiliates invites all patients and Brooklyn residents who wear hearing aids or are suffering from hearing loss to submit additional ideas for categories or topics.
About Dr. Dennis Kisiel, Ph.D
Dr. Dennis Kisiel is a highly experienced audiologist and hearing aid dispenser. Before receiving his Doctorate of Sciences in 1979 from the University of Memphis, Dr. Kisiel provided clinical services at Louisiana State University School of Medicine for two years and completed his dissertation on Tinnitus at Kresgee Research Institute of the South. For the next ten year, Dr. Kisiel served as a Director of Audiology, first at the Cleveland Speech and Hearing Center at Case Western Reserve University (1980-82) and later at the The Long Island College Hospital (LICH) in Brooklyn NY (1982-1990). In 1990, Dr. Dennis Kisiel became the owner of Audiology Affiliates in Brooklyn NY.
In 2008 Dr. Kisiel founded one of the few Tinnitus Diagnosis and Treatment Centers in New York City. He continues to be the onlycertified provider of the Neuromonics Tinnitus Treatment Program in Brooklyn. He is a Fellow-level member of the American Tinnitus Association. Throughout his career, Dr. Dennis Kisiel has authored numerous research publications, served as a university professor, and acted as consultant to the hearing aid industry and to the City of New York Public Health Programs.
About Audiology Affiliates
Audiology Affiliates serves Brooklyn, NY and its surrounding communities with a full range of audiology services including a complete range of diagnostic and preventative hearing services and hearing aids. Audiology Affiliates is committed to the continued development of their hearing aid professionals and to community education about hearing health topics. They offer regular Hearing Aid Open House programs to educate and inform Brooklyn residents about hearing loss and hearing aid technology. With over 39 years of experience, the licensed audiologist at Audiology Affiliates welcomes new and returning patients.
Contact:
Dr. Dennis Kisiel
kisielhearing.com
Audiology Affiliates
142 Joralemon St., Ste 6A
Brooklyn, NY 11201
(718) 530-0394