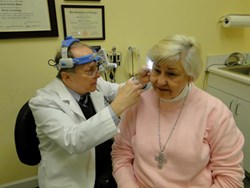 Chattanooga, TN (PRWEB) September 30, 2013
Hearing loss can be caused by many things including family history, noise exposure, some medicines, and the aging process, but the effects caused by all types of hearing loss are very common. More than 31 million people suffer from hearing difficulties and, if untreated, those with hearing loss and their loved ones can suffer even more. Studies have shown a direct relationship with untreated hearing loss and emotional, physical, psychological and even economic disadvantages.
In an effort to stop this cycle, Audiologist Ken Parker of Audiology Services of Chattanooga, produced a welcome video that directs those with hearing loss and their loved ones to a variety of resources on their website. These resources include an award winning educational video on hearing loss and the most recent advancements in hearing aid technology, a free downloadable copy of their Guide to Better Hearing, and even includes an offer for a no obligation consultation. The resources provided are designed for those preferring to do their initial research from the privacy of their own home and encourages those suffering to take the first step at improving their lives by getting the help they need.
Audiology Services of Chattanooga recommends viewing this welcome video to anyone suffering from hearing loss or anyone that has a loved one suffering from hearing loss. Those suffering from hearing loss can find it so difficult to communicate because of hearing loss that they avoid or withdraw from social situations causing alienation and lonliness. Hearing loss can also affect the ability to perform at work causing lower earnings than those that don't have hearing loss.
About Dr. Ken Parker
Dr. Ken Parker, founder of Audiology Services of Chattanooga Inc., grew up in Summerville, Georgia and attended the University of Georgia. He graduated from the Audiology program at Georgia in 1974 and moved to the Chattanooga area shortly thereafter. He completed his Doctorate in Audiology in May of 2001. He made the decision to open his own practice and Audiology Services of Chattanooga began operating in September of 1979. Parker is the Operating Officer and also serves as one of the three audiologists. He is a member of the American Academy of Audiology and various other national and regional Audiology organizations.
About Audiology Services of Chattanooga:
Audiology Services of Chattanooga, Inc. has provided hearing aids in Chattanooga, Tennessee and its surrounding communities for several years. The company offers a full range of diagnostic and preventative hearing healthcare professional services, including hearing aid screening, evaluations, hearing aids sales and rehabilitative and preventative counseling. The staff is dedicated to keeping abreast of the latest improvements in technological advancements in the hearing industry and is committed to offering the most current options to our patients.
Contact:
Dr. Ken Parker
http://www.hearchattanooga.com/
Audiology Services of Chattanooga
6151 Shallowford Road, Suite 104
Chattanooga, TN 37421
(423) 822-2359
Audiology Services of Chattanooga
1807 Taft Highway, Suite 6
Signal Mountain, TN 37377
(423) 822-2361