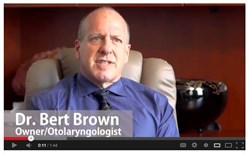 I get as much satisfaction helping people hear the world better as anything else I do.
Cleveland, OH (PRWEB) August 11, 2013
Physician Hearing Centers in Cleveland Ohio offers a unique patient experience that is highly personalized and unlike the experience at most other practices nationwide. In order to better communicate the unique aspects of their physician-driven audiology care model and the Sound Experience Room™ developed by owner Dr. Bert Brown, MD, Physician Hearing Centers has created a new practice overview video.
The video features Otolaryngologist Dr. Bert Brown and Audiologists Dr. Stephanie Rosenblum and Dr. Chessy Umbel discussing the numerous steps taken at Physician Hearing Centers to ensure that patients have access to the best modern technology and are simultaneously comfortable and well informed. The video includes many images from inside the practice including the well-appointed reception area, the spacious hearing testing booths and the Sound Experience Room™ where hearing fittings take place.
The new video can be viewed on the home page of the practice website and on the Physician Hearing Centers YouTube channel at http://www.youtube.com/watch?v=sZsMxmDnm7c
About Dr. Bert Brown, MD
Dr. Bert Brown, Otolaryngologist, has been a practicing ENT physician for over 25 years – devoting his career to helping people with hearing challenges. His expert understanding of the hearing process led to his development of the SER™ Fitting Room, which simulates the real world and allows the patient to experience their improved hearing with their hearing aids as a whole body experience – customizing them to their individual needs. His personal attention and total health approach are key to his success with patients. He's committed to making sure every solution he prescribes is tailored to their unique lifestyle and needs.
Dr. Brown completed his Bachelor of Arts degree at Northwestern University where he received the Phi Eta Sima and Phi Beta Kappa awards. He earned his Medical Degree from the University of Cincinnati where he was awarded the Christian R Holmes award in ENT. He completed his residency at the University of Pittsburgh Eye & Ear Hospital.
About Physician Hearing Centers
Physician Hearing Centers offers physician-driven, audiologist-directed hearing healthcare services in the Cleveland area. They offer a full range of diagnostic and preventative hearing healthcare professional services, including hearing aid screening, evaluations, hearing aids sales and rehabilitative and preventative counseling. Physician Hearing Centers professionals are dedicated to keeping abreast of the latest improvements in technological advancements in the hearing industry and are committed to offering the most current options to our patients. Physician Hearing Centers has two locations in the Mayfield Heights area of Cleveland and in Macedonia, OH.
Contact:
Dr. Bert Brown, MD
physicianhearingcenters.com
Physician Hearing Centers
6770 Mayfield Road, Suite 210
Cleveland, Ohio 44124
(440) 550-4179
Physician Hearing Centers
640 East Aurora Road
Macedonia, Ohio 44056
(330) 400-3916