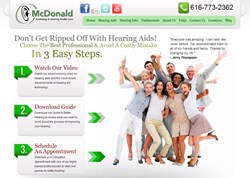 Grand Rapids, MI (PRWEB) September 07, 2013
McDonald Audiology & Hearing Health Care has launched a blog on the company website to provide hearing care tips to Grand Rapids MI residents on a regular basis.
The audiologists at McDonald Audiology & Hearing Health Care have compiled a long list of subjects for the blog. The blog articles will span topics ranging from the latest advances in hearing restoration research, to the different types of hearing loss, to new tinnitus treatment approaches, and answers to frequently asked questions such as how to select an audiologist or a set of hearing aids. The audiologists intend to post a brand new post on a weekly basis. Articles published to the blog section will also be readily available via McDonald Audiology & Hearing Health Care Twitter and Facebook accounts. The blog's RSS feed will conveniently distribute all new posts.
McDonald Audiology & Hearing Health Care is encouraging everyone who wears hearing aids in Grand Rapids MI as well as all former and current patients to visit the blog regularly. Currently, the blog only contains a handful of articles, but it will expand rapidly over time. As of today, visitors will find information on the following topics:
Careers Which Are Hazardous to Your Ears and Hearing
Understanding BPPV: Causes and Care
A Ruptured Eardrum – What Is It and How Is It Treated?
How to Shop for Headphones for Your Children
McDonald Audiology & Hearing Health Care invites all patients and Grand Rapids MI residents who wear hearing aids or are suffering from hearing loss to submit additional ideas for categories or topics.
About Pamela D. Keenan, Au.D.
Dr. Pamela Keenan is the current owner of McDonald Audiology and Hearing Health Care. Dr. Keenan attended Central Michigan University where she obtained her Bachelor of Science in Communication Disorders in 1991. Subsequently she attended Michigan State University, where she received a Master's degree in Audiology in 1992. In 2009 she completed her Doctor of Audiology degree at the George S. Osborne College of Audiology at Salus University (formerly known as the PCO School of Audiology). She also has a Certificate of Clinical Competence in Audiology (CCC-A) and is licensed by the State of Michigan Board of Audiology. She enjoys volunteering with local groups such as HLAA (Hearing Loss Association of America) and DHHS (Deaf and Hard of Hearing Services) to help educate the public about hearing and issues surrounding hearing loss.
About McDonald Audiology & Hearing Health Care
McDonald Audiology and Hearing Health Care offers expert service with a professional staff of Board Certified Hearing Instrument Specialists and Audiologists. Their combined experience, knowledge and education enables them to offer the entire Grand Rapids area the best in hearing health care services. McDonald Audiology hearing professionals believe hearing solutions must be structured individually to meet the needs of each patient. No two hearing losses are alike. Each patient deserves personalized care and a rehabilitation program tailored for their specific hearing needs.
Contact:
Pamela D. Keenan
http://mcdonaldhearingservices.com
McDonald Audiology & Hearing Health Care
330 Fuller Ave NE
Grand Rapids MI 49503
(616) 773-2362
McDonald Audiology & Hearing Health Care
961 Four Mile Rd NW
Grand Rapids MI 49544
(616) 773-2419
McDonald Audiology & Hearing Health Care
4444 Kalamazoo Ave, SE Ste 101
Grand Rapids MI 49508
(616) 828-1516
McDonald Audiology & Hearing Health Care
705 S Greenville West Drive Suite 202
Greenville MI 48838
(616) 828-5420