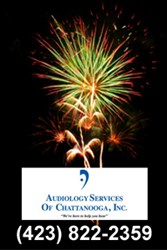 Chattanooga, TN (PRWEB) July 04, 2013
Fireworks create a visual and auditory spectacle that thrills audiences young and old. The booms, blasts, crackles and sizzles are part of the show, but they can also cause hearing damage - some of it permanent. Hearing injuries are largely invisible on the Fourth of July. You won't see them reported in the local news alongside fires, burns, hand or face injuries, but they are just as serious.
To help everyone have a safe July 4th, Audiology Services of Chattanooga offers some little known facts about hearing safety and fireworks.
Fact #1 - Exploding fireworks have a decibel rating of 150 - 175. Compare that with 140 decibels for a gunshot and 150 decibels for a jet engine at takeoff. Surely the professionals running the fireworks display are wearing hearing protection, but generally the audience is not.
Fact #2 - Children experience the sounds of fireworks at greater volumes than adults. Standing side-by-side watching the same fireworks display, children experience greater pressures in their inner ears. This is because their ear canal is narrower and the same blast sound squeezes through a smaller opening.
Fact #3 - The single bang of a firecracker at close range can permanently damage hearing in an instant. Ten million Americans have already suffered irreversible hearing damage from noise.
To be safe Audiology Services of Chattanooga recommends:
Tip #1 - Keep a safe distance. 200 feet or more if there are children in your group.
Tip #2 - Bring (and wear) ear plugs or over-the-ear ear muffs.
Tip #3 - Leave the fireworks to the professionals. Don't set any off on your own.
Anyone who notices a change in hearing after attending a fireworks display should seek a hearing test from a professional audiologist.
About Audiology Services of Chattanooga:
Audiology Services of Chattanooga, Inc. has provided hearing aids in Chattanooga, Tennessee and its surrounding communities for several years. The company offers a full range of diagnostic and preventative hearing healthcare professional services, including hearing aid screening, evaluations, hearing aids sales and rehabilitative and preventative counseling. The staff is dedicated to keeping abreast of the latest improvements in technological advancements in the hearing industry and is committed to offering the most current options to our patients.
Contact:
Dr. Ken Parker
http://www.hearchattanooga.com/
Audiology Services of Chattanooga
6151 Shallowford Road, Suite 104
Chattanooga, TN 37421
(423) 822-2359
Audiology Services of Chattanooga
1807 Taft Highway, Suite 6
Signal Mountain, TN 37377
(423) 822-2361