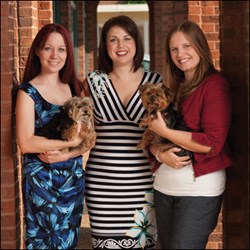 I work to educate patients so that they make the best choice for their individual situation.
Nashville, TN (PRWEB) August 20, 2013
Audiology Associates and Hearing Aids Today was recognized by Notables® of Nashville as being the best local provider in their industry. The prestigious award was given to only 14 businesses in the Nashville area and is a true indication of excellence and service to the community. As an award recipient the doctors and staff of Audiology Associates and Hearing Aids Today participated in a professional photo shoot. The final images and company write-up can be found at http://notablesonline.com/nashville12/02-audiology-assoc.html .
Established in 2002, Audiology Associates & Hearing Aids Today is independently owned and operated. That means no quotas, restrictions or time pressures, allowing Dr. Jina Scherer and her team to freely spend time with patients, understanding their needs and lifestyle. As a doctor of audiology, Dr. Scherer can address medical and diagnostic treatments, most of which are covered by insurance. To ensure that you receive maximum benefits, the practice employs a full-time expert who will work hand-in-hand with you and your insurance company.
Notables of Nashville Publisher and CEO, Eddie Coutras notes, "This year's Notables are an exceptional group of businesses and individuals whose passion for excellence is evident in everything they do. Each company highlighted on Notablesonline.com has been recognized as a Notable because it has proven itself to be among the best in its industry. As you browse through the site, please remember that you can feel confident that when you patronize any of these businesses, you will experience the highest standard of customer service and have a truly positive experience that will keep you going back again and again."
About Dr. Jina Scherer, Au.D.:
Dr. Jina Scherer is a past-president of the National Association of Future Doctors of Audiology (NAFDA) and is a board member of Audiology On-line and Healthy Hearing and the Ear Foundation. She is a licensed Audiologist in the state of Tennessee, and holds her Certificate of Clinical Competence in Audiology (CCC-A). She is also a Fellow of the American Academy of Audiology (FAAA).
About Audiology Associates & Hearing Aids Today:
The goal at Audiology Associates & Hearing Aids Today is to provide its clients with the best possible hearing care, based upon their individual needs. The staff provides a comprehensive array of services related to evaluation, rehabilitation and prevention of hearing impairment. These services include comprehensive hearing evaluations, specialized diagnostic testing, and industrial hearing screenings. Choosing a hearing professional is one of the most important decisions a hearing impaired person can make. Since a hearing aid cannot be prescribed like eye glasses, a proper hearing aid recommendation and fitting is highly dependent on the judgment and skill of the professional selecting the instrument. The staff tests new patients' hearing, selects and dispenses the hearing instrument to best meet their needs, provides support and counseling in addition to servicing the hearing system.
Contact:
Dr. Jina Scherer
http://www.hearingaidstoday.com
Audiology Associates & Hearing Aids Today
99 White Bridge Rd , Ste 106
Nashville, TN 37205
(615) 457-8600