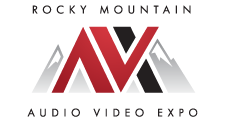 Denver, CO (PRWEB) October 21, 2015
Featuring over 150 manufacturers, speakers, and workshops, the 2015 Rocky Mountain Audio Video Expo offers audiovisual and multimedia professionals the chance to 'Stay Ahead of the Curve' and connect with the best minds in the industry.
A keynote presentation will kick off each day of the expo, followed by scheduled breakout sessions and all-day access to booths and presentations from dozens of exhibitors, including the expo's five featured sponsors.
Keynote Speakers, Workshops, and Classes at #AVX2015
Keynote speakers for the Audio Video Expo 2015 include Bradley David Brown, CEO, President and Founder of InteliVideo; and Dave Zur, Senior VP of Operations and Engineering for KSE Entertainment. Brown's keynote, "The Race is on For Your Data – and Video!" will focus on the transformative power of big data, and what it means for the future of video and the internet in general. Zur oversees all facility operations and engineering activities surrounding channel originations for Altitude Sports, World Fishing Network, and The Outdoor Channel. His keynote is entitled, "The Inside Scoop: Sports, Venue, and Network Operations."
Additional conference speakers include Bryce Button of AJA Video Systems; Brent Stark of Biamp Systems, Inc.; Carolyn Strauss of Carolyn Strauss Media Consulting; Dave Bove of Children's Hospital Colorado; Jonathan "Jock" Mirow of EpiphanyAI; David Kroeger of Epiphany Digital and Extron Electronics; Jeff Scott of Harman International Professional Division; John Arpino and Tom Kehr of InfoComm International; Yon Lew of Isrec International; John Fuller of Mountain Light Company; Bernie Mitchell of Panasonic System Communications Company; Don Poe of People Productions; Jack Jostes of Ramblin Jackson; Lisa Kelley of Sales Creative; Deon LeCointe of Sony Electronics Inc; and many more.
Also at the Audio Video Expo 2015 are two highly acclaimed workshops. The first is "How to Effectively Onboard and Develop AV Staff' presented by John Arpino, InfoComm International. The second is "What's That Noise? Perfecting Your Audio" presented by Tom Kehr of InfoComm International on common audio challenges and how to correct them. Both workshops are offered on both conference days, and the cost is only $39 per workshop (register before October 23)!
At the Audio Video Expo is also several individual hands-on training sessions on Adobe Suite presented by John Aden and Brandon Stiller, of Open Media Foundation. Each session of the Adobe training is individually priced at only $29 (register before October 23)!
The Rocky Mountain Audio Video Expo has been connecting vendors and professionals for over 20 years while fostering innovation and growth in video, sound, broadcast, animation, engineering, and media. By including experts in digital conferencing, advertising and marketing, HD, and 3D fields, the Audio Video Expo puts state-of-the-art multimedia tools in the hands of those in the industry who need it most.
Stay ahead of the curve! Register online for free before October 23, or learn more by calling (303)-771-2000 or emailing info(at)expomasters.com.
Rocky Mountain Audio Video Expo 2015 Featured Sponsors
This year's featured sponsors include Burst, CCS, Ford Audio-Video, Peak Media, Inc., and 5280 Digital, all of whom are major names in regional multimedia broadcasting.
Ford Audio-Video has installed sound, video, and lighting systems in the Denver area for over thirty years and worked to improve the broadcast media infrastructure systems that serve Sports Authority Field, home of the Denver Broncos.
Featured sponsor Burst put itself on the map in a similar fashion, with 20 years of service to local and regional companies and extensive work on audiovisual technologies for the Dallas Cowboys.
Sponsor 5280 Digital has offered audiovisual systems integration, equipment, and service to Rocky Mountain West for the past 11 years, including the execution of plans for upgraded Department of Transportation (DOT) network operations centers.
Meanwhile, featured sponsor CCS, founded in 1991, specializes in audiovisual integration with a strong market presence in education and churches.