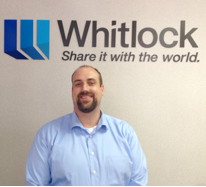 Durham, NC (PRWEB) August 08, 2013
Whitlock is excited to announce that Wes Stewart was recently promoted to a newly created role as the National Director of Technical Operations. Wes has been with Whitlock since early 2006, serving as a Project Manager before being promoted to Technical Operations Manager for the Carolinas in 2010. Prior to that, Wes was a customer of Whitlock, in charge of running audiovisual and videoconferencing technologies for GSK as part of an enterprise relationship with Johnson Controls.
"Wes' excellent background in service, operations and standards for both Whitlock and our customers makes him the perfect person for this new role," states Roger Patrick, Whitlock's COO. "He has been a valuable employee to our company for more than seven years, and our customers will benefit from his expanded influence on our operations. Wes has a rare balanced focus on technical operations performance, profitability and the customer experience."
In his new position, Wes will report directly to the COO and will focus on ensuring Whitlock's national technical operations teams effectively partner to deliver a consistent customer experience to the growing enterprise customer base. He will oversee training and adoption for AVIT, project management, programming and quality assurance standards across the company's national footprint.
Other initiatives on Wes' plate will include monitoring and managing national workload trends and forecasts, with a special focus on fulfilling requirements for Whitlock's key enterprise accounts. By providing additional oversight to Whitlock's billable resources, load sharing, recruiting needs and streamlining CAD and programming services, Wes will help Whitlock deliver an overall improved customer experience.
"I am excited to continue to grow with Whitlock and help expand our tremendous culture. It is exciting to be a part of the company's ongoing efforts to deliver more value and quality of service," says Wes. "Our customer service ratings are already high, and I intend to make sure we continue to hit those marks as we expand our workforce to support our customers with multiple locations in the U.S. and globally."
About Whitlock
Whitlock is a Global AV Solutions Provider, specializing in collaborative technology design, integration and managed services. The company helps clients implement interactive environments, including telepresence/videoconferencing rooms, digital signage networks, collaborative classrooms, visualization rooms, and control rooms/network operations centers. Whitlock also offers expansive AV managed services, including AVNOC and remote support, field services, on-site managed services, videoconferencing warranty/maintenance and virtual and hosted video services. The company currently has 20 U.S. locations, plus a worldwide delivery partner network through the Global Presence Alliance.