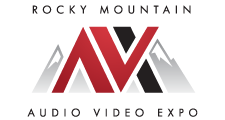 Denver, CO (PRWEB) August 04, 2015
Every year, the Rocky Mountain Audio Video Expo showcases the latest developments in the ever-evolving technological industry. Held in October, this year's event will focus on how to "Stay Ahead Of The Curve" while utilizing innovative, emerging technologies and systems. Additionally, the free expo features a variety of sponsors and provides the opportunity for manufacturers to meet one-on-one with leaders in the television, IT, film, video, sound, computer animation, computer imaging and editing, and AV industries.
Celebrated as a truly unique, one-of-a-kind experience for those looking to remain on the forefront of technology, AVX 2015 includes exhibits by 150 manufacturers, as well as workshops, presentations, and speakers.
This year's featured sponsors include local favorites Peak Media, Inc, Ford Audio Video, Burst, 5280 Digital, and CCS. Each sponsor brings a special flare that attendees will surely notice and admire. Peak Media, Inc. specializes in all aspects of professional audio and video equipment, accessories, and media. The company works with major manufacturers to offer affordable prices on a wide range of high-quality equipment and tools including new cameras, software system upgrades, lighting kits, helmet cams, blank tape stocks, and so much more.
One of the top 10 professional audio/video integrators in the United States, sponsor Ford Audio-Video has installed sound, video, and lighting systems in churches, entertainment venues, government offices, auditoriums, military facilities, and universities for the last 30 years. The company's track record with Denver-area businesses and organizations is exceptional, with projects ranging from installing stadium distribution sound and in-house cable television to providing broadcast media infrastructure systems at Sports Authority Field, the home of the Denver Broncos.
Another big sponsor, 5280 Digital has proudly served Rocky Mountain West for the last 11 years with audio visual, video teleconferencing, production, and system integrations. Projects include providing sound systems for church organizations, creating online educational solutions and network operations centers for DOT, and much more.
Burst, a fourth sponsor, is a professional video and broadcast equipment sales and system integration company renowned for its fantastic customer service and continually putting the needs of customers before sales. One of their recent accomplishments was integrating AV for the Dallas Cowboys new stadium. The company's tradition of excellence has kept it in business for over 20 years.
Last but certainly not least, sponsor CCS has worked with customers in the corporate, educational, and government sectors since 1991. One of the largest A/V integrators in the country, CCS works in conjunction with end-users, architects, and designers to create the comprehensive systems its customers need. Work ranges from simplistic accessories to multimillion-dollar installations, and CCS continually receives accolades and recognition for its outstanding services.
Taking place October 28 through 29 at the Crowne Plaza DIA in Denver, CO, the 2015 Rocky Mountain Audio Video Expo is the place to be for anyone involved in the AV, video, audio integration, web, and broadcast media fields. Register online for FREE at http://www.avxpo.biz. Watch technological evolution as it happens!
--
About Rocky Mountain Audio and Video Expo
Bringing together the best in the AV industry and related fields for the last 20 years, the Rocky Mountain Audio Video Expo will introduce a "whole new level of expertise" at this year's event. The expo provides attendees with the opportunity to learn about the latest technologies, discover new and innovative options for growing their businesses, and access the insight essential to establishing a permanent place in the industry.
Stay ahead of the curve! Register today at http://www.avxpo.biz or learn more by calling (303)-771-2000 or emailing info(AT)expomasters.com.