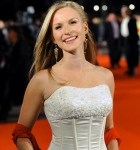 I always want to do movies that can really impact or inspire audiences through the art of storytelling.
Atlanta, GA (PRWEB) August 16, 2013
This special Las Vegas event will be hosted by Jenn Gotzon, Hollywood actress and Actors, Models and Talent for Christ Presenter, Mentor, Scout and Acting teacher. After this initial scouting event, select talent will be invited to participate in more intensive programs and training.
Award winning actress Jenn Gotzon had her career break playing President Nixon's daughter Tricia (cameo role) in Ron Howard's Oscar-nominated FROST/NIXON which launched her as a rising star and top Christian actress. Jenn Gotzon has starred in ten Christian worldview movies including: just released family dramedy 'God's Country' (in stores nationwide), mystery romance thriller opposite John Schneider in 'Doonby' and true-story French and Indian War family drama 'Alone Yet Not Alone' (both coming to theaters this fall). The first of these movies to release was inspirational drama 'I Am Gabriel' about the power of prayer starring Dean Cain. Early 2013, Jenn Gotzon became the spokesperson for New Evangelization Television (NET TV) on Verizon Fios.
Gotzon, "is compared to a young Meryl Streep for her chameleon-like transformations," stated Valley Social Magazine. Gotzon also developed a motivational mentor-outreach program, Inspiring Audiences, where she speaks to high school students, screens her movies, shares her journey on overcoming life's obstacles and educates and encourages teens.
You may connect with Jenn Gotzon via Facebook (jenngotzon.fanpage) and twitter @JennGotzon. Jenn says, "What a blessing to share how God is moving through the faith-based film movement across our country and how AMTC's ministry is a part of this journey. I look forward to meeting everyone and helping anyone who is being called to this industry."
It's time for God's stars to stand up on the stages of film, fashion, music and theater. Bad is bold in the entertainment industry, so good must be bolder!
Actors, Models and Talent for Christ has been the starting point for hundreds of successful artists and grads like Tim Urban, singer-songwriter with latest YouTube hit 'Tears for Hallelujah', Maria Bradley, international fashion model, listed as one of the top 10 newcomers from this season, Caitlinn Kinney, choreographer for dance film 'Platinum' and stunt double for Bette Midler in 'Parental Guidance' (2013), Josh Murray, actor, 'The Man in the Cave' (2013), National Geographic Channel's production of 'Killing Lincoln' and most recently cast in the film 'For the Love of Fish', Charles Michael Davis commercial model for NIKE, actor in 'Switched at Birth' and soon to be released motion picture 'Another Stateside', Stephen "tWitch" Boss from 'Step It Up Revolution and SYTYCD' judge.
Actors, Models and Talent for Christ Las Vegas auditions are being held at the Hampton Inn Tropicana, 4975 Dean Martin Drive, Las Vegas, NV 89118, phone: 702.948.8100.
For more information about an audition with Actors, Models and Talent for Christ or to register for this event, please visit http://www.AMTCaudition.com/.