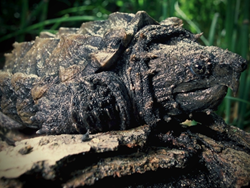 (PRWEB) July 17, 2014
With the help of the U.S. Fish and Wildlife Service, Audubon Aquarium recently released a rehabilitated alligator snapping turtle into the Mandalay National Wildlife Refuge located in Houma, La.
The turtle was brought to Audubon Zoo in October 2012 after being discovered in the middle of Tchoupitoulas Street, a busy thoroughfare in downtown New Orleans. It is suspected that he fell from the back of a moving truck causing road rash and ulcerations along his face and the top of his carapace.
At Audubon Zoo, the turtle received treatment and was transferred to Audubon Aquarium two months later. After the turtle fully recovered from the injuries, Aquarium veterinarians and animal staff decided to release him into the wild.
"Releasing this animal is an important part of Audubon Nature Institute's overall mission to preserve the wildlife found in our local habitats," said Audubon Curator of Aquatics, Kristine Grzenda. "Alligator snapping turtle populations are in decline due to habitat loss and over-harvesting for their meat."
Audubon staff teamed with the U.S. Fish and Wildlife Service and the Barataria-Terrebonne National Estuary to locate a secluded area in Mandalay National Wildlife Refuge where the turtle was successfully released.
"Returning an animal to the wild is as good as it gets for us at Audubon Nature Institute," said Audubon Nature Institute President and CEO Ron Forman. "It is satisfying to help an animal back to health so it can continue life in its natural habitat. It's a gratifying and humbling experience and I'm proud Audubon could be part of this effort."
Mandalay National Wildlife Refuge is one of eight in the Southeast Louisiana (SELA) Refuge Complex. The mission of these refuges and the National Wildlife Refuge System is to administer a national network of lands and waters for the conservation, management and where appropriate, restoration of the fish, wildlife and plant resources and their habitats within the United States for the benefit of present and future generations of Americans. For more information, visit http://www.fws.gov/mandalay/.
Audubon Aquarium of the Americas
Tickets to Audubon Aquarium of the Americas are $22.50 for adults, $16.00 for children and $17.00 for seniors. Admission is free for Audubon Nature Institute members. Advance tickets are recommended and can be purchased by visiting AudubonInstitute.org or at any Audubon Nature Institute attractions. Audubon Aquarium of the Americas is located at 1 Canal Street, New Orleans, LA 70130.
###
Audubon Nature Institute is a 501(c)3 not for profit that operates a family of museums and parks dedicated to nature. These New Orleans facilities include: Audubon Park, Audubon Zoo, Woldenberg Riverfront Park, Audubon Aquarium of the Americas, Freeport-McMoRan Audubon Species Survival Center, Entergy IMAX® Theatre, Audubon Center for Research of Endangered Species, Audubon Louisiana Nature Center, Audubon Butterfly Garden and Insectarium and Audubon Nature Institute Foundation. Ron Forman is President and CEO of Audubon Nature Institute.