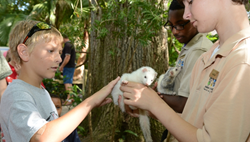 We are very excited to be offering new programs that continue Audubon's mission of educating our diverse audience.
New Orleans, LA (PRWEB) November 18, 2014
Audubon Nature Institute invites the community to experience their attractions in a whole new way. With the introduction of a series of new educational programs, entire families now have the opportunity to have a one-of-a-kind learning experience at Audubon.
"We are very excited to be offering new programs that continue Audubon's mission of educating our diverse audience," said Audubon Director of Education Programs, Tricia LeBlanc. "By creating programs for visiting schools, home school families, toddlers and their parents, offering private tours for family groups, and expanding our outreach programs, we are hoping to reach out further into the community and serve a broader audience."
The new programs aim to introduce nature into visitors' lives and help foster an appreciation and care for the natural world:
On Nov. 10, 2014, Audubon began Home School Mondays, where home-schooled students can experience a different Audubon Attraction each week.
Through the end of the year, Zoo School and Aqua School will be in session, offering numerous learning experiences during field trips to the Zoo and Aquarium, respectively.
Students can learn more about their favorite Zoo animals during Zoo Wild Walks. Similarly, students can learn about their favorite underwater creatures during a personal tour led by an Aquarium Educator during Aquarium Wild Walks. Both will be held through the end of December. Wild Walks last an hour and are held Thursday through Sunday.
For the older adventurers, Audubon will host Twilight Treks for Teens from November 2014 through April 2015. Students can enjoy the nocturnal side of Audubon Zoo and its inhabitants.
Additionally, Stroller Safari will be held through the end of the year. This program fosters first adventures for our littlest explorers.
Lastly, Audubon Zoo will host the last Safari After Dark of the year, an overnight camping adventure, on Dec. 13, 2014. New Orleans families and visitors are invited to enjoy this unique learning experience, which includes crafts, animal encounters, fireside activities, a behind-scenes tour, as well as a night hike.
For more information about the educational programs offered by Audubon Nature Institute, please contact 6500 Magazine Street, New Orleans, LA 70118 or visit http://www.auduboninstitute.org/education.
Audubon Nature Institute is a 501(c)3 not for profit that operates a family of museums and parks dedicated to nature. These New Orleans facilities include: Audubon Park, Audubon Zoo, Woldenberg Riverfront Park, Audubon Aquarium of the Americas, Freeport-McMoRan Audubon Species Survival Center, Entergy IMAX® Theatre, Audubon Center for Research of Endangered Species, Audubon Louisiana Nature Center, Audubon Butterfly Garden and Insectarium and Audubon Nature Institute Foundation. Ron Forman is President and CEO of Audubon Nature Institute.