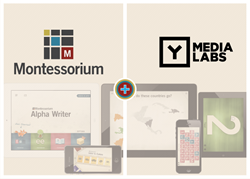 San Francisco, CA (PRWEB) August 28, 2013
Y Media Labs, the San Francisco Bay Area mobile app maker, has partnered with Montessorium, the leading Interactive Learning experience creators. The partnership with Montessorium makes Y Media Labs an integral part of the Sioux Falls startup team.
The relationship with the Interactive Learning startup is not new. In fact, for nearly three years Y Media Labs has quietly developed multiple Montessorium apps some of which are: Intro to Colors, Alpha Writer, Intro to Geography and is currently helping create Intro To Cursive.
The mobile apps created by Y Media Labs for Montessorium have consistently been awarded spots by Apple on international billboards and the home page of Apple.com.
Some spotlights for the apps were as follows:
"Intro to Colors," was featured in the "New and Noteworthy" section of iTunes. This was for both iPad and iPhone while simultaneously featured as the large campaign banner app by Apple on iTunes.
"Intro to Math," was Best App of 2010, appeared in an Apple television commercial and featured on Apple's website this year (2013).
"Intro to Letters," was featured in a billboard campaign by Apple, in Apple's "iPad Electric" TV commercial and the icon was used for propaganda during an annual Apple conference.
"Intro to Colors," was praised in the Mac Life Magazine in August 2013
About the Company
Y Media Labs is a complete interactive mobile solution provider. They specialize in mobile application development for all major platforms, including the Apple iPhone, iPad, iPod and Android platforms. The app design and development studio boasts an impressive portfolio of clients from vast industries. A small part of their portfolio includes, PayPal, Lonely Planet, Shutterfly, Sesame Street and Photo Bucket. Y Media is based out of Redwood City, CA.