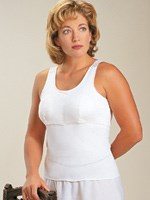 A limited number of Softee® Two Camisoles will be given away by the United Breast Cancer Foundation.
Huntington Station, NY (PRWEB) August 22, 2013
The United Breast Cancer Foundation (UBCF) is pleased to announce our partnership with the Cancer Resource Foundation (CRF). UBCF will participate in the ALL4ONE™ Softee® Program by providing women who have undergone breast cancer surgery with a free Softee® Two camisole. The program is open to women scheduled for or recovering from surgery to treat or prevent breast cancer. A limited number of camisoles have been donated for this program and applications will be processed on a first-come, first-serve basis.
About the Softee® Two Recovery Camisole:
The Softee® Two is a post-operative solution for comfort, security and restored shape. The unique 'roo' pocket on the front underside conveniently and safely holds the post-operative surgical drain(s) from the right, left or both sides. The underarm is cut deep and wide for added comfort. The Softee® Two comes with stretch lace straps, two removable and adjustable poly-fil breast forms, in sizes petite through XX-Large.
About CRF:
The Cancer Resource Foundation programs provide assistance for the prevention, early detection, diagnosis, treatment and survivorship of cancer through patient assistance, education and research.
About United Breast Cancer Foundation:
Founded in 2000, our mission is to make a positive difference in the lives of those affected by breast cancer. UBCF offers patient and family programs dedicated to breast cancer screening and prevention, treatment and patient health and well-being. UBCF educates the public on a variety of breast cancer issues, including coping with breast cancer, family support, environmental awareness, dietary options, complimentary therapies, research, and prevention.
Our programs, including free Softee® Two Recovery Camisoles, are made possible by contributions from the public. If you would like to make a contribution towards UBCF's mission, visit us at http://www.ubcf.info, or mail your donation to UBCF, 205 Depot Road, Huntington Station, NY 11746. Include UBCF in your Combined Federal Campaign support - #77934. United Breast Cancer Foundation accepts property and vehicle donations (http://www.donatecarbreastcancer.com).