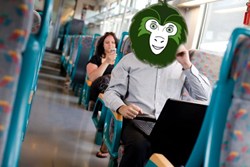 Wanderu will provide bus and train carriers with the opportunity to access new and extended markets, while improving their level of service by allowing end users to smoothly plan a point-to-point trip
Monterrey, Mexico (PRWEB) August 13, 2013
Alta Ventures Mexico (AVM) announced today an investment in Wanderu, the travel startup that makes finding and booking bus and train travel easier. Former CEO of Greyhound, Craig Lentzsch and AVM's partner, Rogelio De los Santos will be added to the board of directors. The $2.45 million closing round of funding includes strategic travel industry insider and Chairman of Orbitz, Jeff Clarke; Chairman of Her Campus, Bill Kaplan; Semyon Dukach, Drummond Road Capital, amongst others.
After initially partnering with 12 bus carriers, including BoltBus and Concord Coach Lines, Wanderu made its service publicly available in the Northeast of the US, where the platform has over 80% coverage including from major cities to remote college towns. "Our partnerships allow us to provide end users with up to date schedules, pricing, availability and facilitates the check out process," said co-founder and CEO Polina Raygorodskaya.
Wanderu is making it easier for young executives and students, accounting for 74% of the intercity bus travelers, to find and book a trip from point A to B. Compared to flying, ground travel has proven to be more convenient for short and middle distances since it offers Wi-Fi, plugs and other amenities. According to a DePaul University study, buses are the fastest growing form of transportation for inter-city travel in the U.S, but finding and booking travel between cities still proves to be a big headache and waste of time for consumers having to scour the web to find and book a trip. Winner of this year's SXSW Interactive Accelerator Innovative Web Technology award, Wanderu is tackling this issue head on by allowing travelers to search all of their options in one place.
"Wanderu will provide bus and train carriers with the opportunity to access new and extended markets, while improving their level of service by allowing end users to smoothly plan a point-to-point trip," De los Santos said. "We saw a big opportunity in the North American market being tackled by a very talented and knowledgeable team," he added.
Founded by Polina Raygorodskaya, Igor Bratnikov and Eddy Wong, Wanderu's goal is to deliver the easiest search and booking experience in ground travel. The company will use the capital to expand its coverage, scale its data systems and release new features. It is rapidly adding to its development team, which currently consists of eight engineers. The Wanderu data system, similar to middle layer technologies in the airline business, enables Wanderu to connect directly with partner's reservation systems. The system standardizes the schedule and pricing information from across the different sources by converting to Wanderu Unified Data Standards.
Wanderu also debuts checkout availability confirmation, a first in the industry. This real time trip verification enables consumers at checkout to have the latest prices and availability before they begin booking. In the near future, the company is planning to make it effortless to travel between any two points in North America.
For more information on Wanderu, please visit http://www.wanderu.com. Twitter: @gowanderu.
About Alta Ventures Mexico
Alta Ventures Mexico is focused on accelerating innovation in Latin America. Alta Ventures provides early-stage venture capital to innovative entrepreneurs in high growth sectors including mobile, SaaS, IT, clean tech, healthcare, education, security and consumer sectors. Based in Monterrey Mexico, Alta Ventures focuses on Mexican and US companies with a Latin American strategy. The Alta team has deep operational and investment experience on both sides of the border and an extensive international business network. For more information please visit http://www.altaventures.com/.