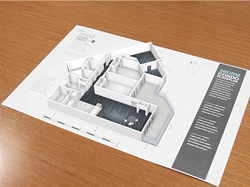 "Miralupa's InViz is a cutting-edge, eye-catching application that captures the interest of potential homebuyers in a way that has never been done before," said Carmela Martinez, President, MP Repro.
Montreal, Quebec (PRWEB) December 03, 2014
Miralupa today announced InViz, a new architectural application that transforms static 2D drawings into dynamic 3D representations. Utilizing InViz, residential and commercial project developers, pre-fabricated housing manufacturers, architects, city planners, and designers can easily convey the volume and space of a building to potential homebuyers and track their interest in construction plans leveraging advanced analytics. Available from Google Play and the App Store, InViz is exclusively distributed by MP Repro in Greater Montreal. InViz will be demonstrated in the MP Repro booth 747 at Construct Canada in Toronto, December 3-5, 2014.
"One of the key challenges that project developers and architects face is to effectively communicate the volume and space of a structure to their customers," said Robert Young, chief executive officer, Miralupa. "InViz dramatically improves upon traditional 2D drawings by bringing an extra dimension to building plans. This powerful tool gives users in the architecture and construction world an advantage over the competition while creating a memorable and motivating experience for potential homebuyers."
With Miralupa's InViz application, users can make instant predefined changes — on their cell phones or tablets — to building plans (e.g., remove a roof or ceiling, or select a different floor style) via soft-touch buttons. By providing potential homebuyers with a better understanding of what a structure will look like in the real world, InViz increases sales for residential and commercial project developers.
InViz provides users with valuable information and analytics about potential customers, including how many times the prospect has viewed a building plan, how long he/she spent looking at the plan, at what time of the day, on which days, and more. Aggregating data from all prospective customers, InViz allows developers to gain a better understanding of which plans are being viewed most often in order to identify trends and sell units more quickly. Data can also be used to control the release of new information about a building project to ensure it has a maximum sales impact.
"Miralupa's InViz is a cutting-edge, eye-catching application that captures the interest of potential homebuyers in a way that has never been done before," said Carmela Martinez, president, MP Repro. "We look forward to representing InViz at several upcoming tradeshows and increasing the app's sales volume by harnessing our expertise in the architectural industry."
# # #