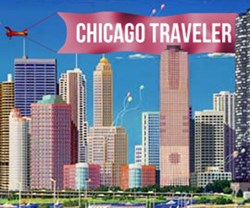 Chicago, Illinois (PRWEB) July 27, 2013
August is a wonderful time to take a trip to the Windy City. The summer temperatures are not as intense, the waters of Lake Michigan are as warm as they'll be all year, and there are so many great events to check out before school starts back up again. This is a perfect time for sightseeing in Chicago, and fitting in all the top attractions for one low price with Chicago summer savings. Check out all the best things to do in Chicago for the rest of the summer season, and don't miss these highly anticipated upcoming events that lead up to a final summer hoorah on Labor Day weekend in Chicago.
August 2-4, 2013 - Lollapolooza Chicago
A Grant Park Chicago tradition since 2005, the Lollapalooza Music Festival Chicago is one of the top annual U.S. concerts each year. Big performances this year include Nine Inch Nails, The Killers, Eric Church, Ellie Goulding, Vampire Weekend, The Cure and more.
August 3-4, 2013 - Edge Fest Chicago is back again and kicking off the first weekend in Chicago. Highlighted by great family fun, delicious cuisine, award-winning entertainment, and more than three-dozen local artists. 5900 North Broadway at Thorndale Avenue, Chicago, IL.
August 3-4, 2013 - The 10th annual Grand Slam Street Festival at Wrigleyville is another great opportunity to enjoy great food, live music and family fun this weekend in Chicago.
August 7-11, 2013 - Tall Ships Chicago
Navy Pier is welcoming an international fleet of historic and fascinating Tall Ships for people to sail on, tour and marvel! Boat tours in Chicago are one of the most popular attractions all summer long, and this is just another great way to experience a Tall Ship!
August 17, 2013 - 31st Running of the Arlington Million - put on a floppy hat and sundress and celebrate the "Sport of Kings" this summer in Chicago.
August 17 - 18, 2013 - Chicago Air and Water Show is one of the city's most beloved events! This free show draws huge crowds to Chicago, and Chicago's North Ave. Beach and surrounding areas to enjoy for two days each summer. From 10am to 3pm this Saturday and Sunday in August, watch the largest free air and water show in the world!
August 29 - September 1 - Chicago Jazz Festival
The longest running lakefront music festival in Chicago is back again this Labor Day weekend.
Popular Concerts in Chicago August 2013
Aug. 1 - Hot Chip
Aug. 2 - Backstreet Boys, Jesse McCartney & DJ Pauly D at FirstMerit Bank Pavilion
Aug. 3 - Kendrick Lamar
Aug. 3 - Mindless Behavior
Aug. 4 - The Postal Service
Aug. 10 - Taylor Swift & Ed Sheeran
Aug. 10 - Corey Smith
Aug. 17 - STS9 & Umphrey's McGee
Aug. 20-21 - The Allman Brothers Band at The Chicago Theatre
Aug. 22 - Wait Wait...Don't Tell Me at Chase Auditorium
Aug. 25 - Grace Potter and the Nocturnals
Aug. 30 - Sept. 1 - North Coast Music Festival
About ChicagoTraveler.com:
Chicago is one of the top vacation destinations in America famous for their annual events, popular foods, and architecture and top sports teams. ChicagoTraveler.com guides travelers to all the best things to do, top places to eat and deals on the best places to stay in Chicago. Lizz Riggs, editor of ChicagoTraveler.com, can help travelers find all the best things to do, places to stay and deals to take advantage of on their next trip.