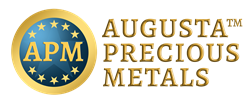 Our main focus is on quality and an excellent customer experience.
Los Angeles, California (PRWEB) March 08, 2017
Augusta Precious Metals, a well-recognized name in the precious metals industry, announced a new milestone last week. The gold IRA expert became one of the highest rated businesses by the Better Business Bureau with an A+ rating, the highest awarded by the organization. The prestigious A+ rating solidifies Augusta Precious Metals as one of the most well-recognized and customer-oriented businesses in the gold IRA niche. "We are thrilled with the news. What matters most for us is customer satisfaction, and we're glad to have a growing list of satisfied customers," said the company's president and founder, Isaac Nuriani. The Nuriani family has been in the precious metal industry for more than four decades and has helped thousands of people safeguard their precious savings.
More Evidence of Positive Feedback for Augusta Precious Metals
The A+ rating from the Better Business Bureau aligns with the company's excellent ratings on other customer review sites, including Business Consumer Alliance, where it is rated AAA. Augusta Precious Metals also has accumulated over 200 positive reviews on Trustlink.org, one of the most well-known company review sites.
Augusta Precious Metals is a family owned business with high standards. To maintain these standards, the company is a member of several industry organizations, including the Professional Coin Grading Service (PCGS) and the National Ethics Association. In addition to this, the company follows the standards set by the Numismatic Guaranty Corporation (NGC).
Nuriani, a member of the Industry Council of Tangible Assets with extensive experience in the industry, believes that Augusta Precious Metal's excellent work ethic and a drive to continuously improve the customer experience are the main reasons behind the company's growing list of happy clients. Augusta Precious Metals caters to its clients by presenting itself as one stop source for all things related to a gold IRA. It also provides vast amounts of information on gold IRAs, including how to obtain and maintain a gold IRA account.
The company makes three commitments to its clients.
They include:

Transparency
Customized Portfolio Creation
Simplicity
Based on the volume of positive customer reviews, it appears that the experts at Augusta Precious Metals go all out to keep these commitments and provide customers with a remarkable experience. Nuriani believes that any gold IRA company must put its clients first, and its own profits later. "In the service industry, it is all about meeting client expectations and providing them with an experience they would love to talk about," said Nuriani. He further added, "Our mission has always been to accommodate all our clients and their different needs. Our main focus is on quality and an excellent customer experience. And our reviews on BBB prove that we have been doing it right." Nuriani explained that he gold IRA industry has stiff competition, but not all businesses know how to handle clients. Nuriani believes that most companies try to milk profits instead of helping clients. "While this may help businesses in the short-run, they eventually fall flat once negative reviews start pouring in," said Nuriani.
The company has been mentioned on several well-known platforms including Forbes, CNBC, Fox News, Fortune, Entrepreneur and Bloomberg. Its main product is the Gold IRA where buyers can see, touch and hold the precious metals held by the IRA.
"We offer a free guide on our Gold IRA to help our clients understand the concept better. There are many myths surrounding Gold IRAs, and our specialists are always there to answer questions related to Gold IRAs, including fees, withdrawal and other policies," said Nuriani. Also, Nuriani emphasized that his team's ability to satisfy clients by providing them answers to all of their questions is why Augusta Precious Metals has impressive reviews on BBB and other customer review sites.
"You have to provide excellent service if you want buyers to come back, and bring you more customers. We are working hard to maintain our position as an industry leader. It's not easy, but it's very important," said Nuriani.
ABOUT AUGUSTA PRECIOUS METALS
A thought leader and respected provider of gold, silver and other precious metals products, including gold IRAs and silver IRAs, Augusta Precious Metals is committed to helping Americans protect their hard-earned assets by making the gold and silver buying process affordable, easy, and personal. The Nuriani family has thrived in the gold and silver business for more than 40 years, providing high integrity, knowledgeable and friendly personal service, and the industry's lowest prices. Read the company's more than 98% five-star reviews at Trustlink.org. Learn more about Augusta Precious metals gold IRA products and services at http://www.augustapreciousmetals.com