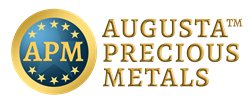 According to Nuriani, the most important criteria for selection of the best gold IRA company is independent, verified reviews
Beverly Hills, California (PRWEB) December 15, 2016
Augusta Precious Metals
https://www.augustapreciousmetals.com
Leading gold IRA company, Augusta Precious Metals, today released "Best Gold IRA Company Selection Criteria" to assist potential customers in avoiding gold IRA companies that provide less-than-professional service and products to physical gold and silver IRA investors.
Augusta CEO Isaac Nuriani explains why the company decided to take this action: "We are becoming aware of aggressive attempts to manipulate online search results and credibility of legitimate gold IRA providers," he said. "We are taking steps to identify these market manipulators and counteract their efforts. Our greatest concern is for customers who may be taken in by these companies and their negative assessments of legitimate gold IRA providers."
Augusta Precious Metals has recently created a specific page for prospects to access their reviews which include positive and or negative complaints on third party trusted review platforms.
According to Nuriani, the most important criteria for selection of the best gold IRA company is independent, verified reviews. One source is TrustLink.org. Augusta Precious Metals often draws consumer attention to its TrustLink.org reviews in promotional materials.
"It's important for both gold IRA customers and those still considering working with Augusta to be assured of our company's integrity. They just need to know we are honest and provide the industry's best gold IRA customer service," he explained. "TrustLink.org offers that assurance, because reviews can be proven to come from real customers, and therefore can be trusted."
Additional Criteria to Choose a Gold IRA Company: Direct Contact and Hard Questions
Other criteria included in the Best Gold IRA Company Selection Criteria include speaking directly with representatives and asking hard questions.
"Once a customer talks with an Augusta Precious Metals retirement specialist, it becomes apparent we are professional and legitimate," Nuriani said. He explained that Augusta representatives are not financial advisors, but are highly-trained and extremely knowledgeable about the options investors have for investing in physical gold, silver and other precious metals.
Asking hard questions, according to Nuriani, is a must for consumers considering investment in gold IRA products. If a gold IRA agent can't answer hard questions, or at least get prompt answers from supervisors, Nuriani said he believes it could be a critical indication that the company has minimal experience and could perhaps be in the gold and silver investment business for reasons other than sincere interest in helping investors.
Nuriani also suggested high-pressure gold IRA tactics are one of the biggest red flags for consumers seeking a provider of precious metals for gold IRAs.
"If your company is legitimate, you don't need high-pressure tactics," he said. "We have a sincere interest in helping our customers become very knowledgeable about their options for gold IRA investment. The focus is on them, not us."
Best Gold IRA Company Selection Criteria from Augusta Precious Metals
The following are selection criteria released today by Augusta Precious Metals:
1. Verifiable online reviews. Look for reliable, independent review services to see what real customers say about the gold IRA company's products and services. If most reviews are positive, the consumer probably can assume future gold IRA transactions would also be positive.
2. Live interaction. Don't purchase gold and silver online without talking to a live representative. Ask questions, find out about the company, determine how transactions work. Identify potential problems. A live conversation helps determine the legitimacy of a gold IRA provider.
3. Hard questions. All sales representatives have scripts to follow, but they also should be able to go off-script in a serious, sincere conversation about your investment needs and the proper role of physical gold and silver in your portfolio.
4. Absence of high pressure. Any gold IRA company is in business to make a profit, but legitimate companies know the best path to profit is honest service and quality products. If your gold IRA account executive is using intimidation and severe scare tactics, it's time to try another company.
5. Professionalism. This can be difficult to define. Clues that indicate a company operates with professional integrity include efficiency, respectfulness, quality marketing materials, clear communication, high-level knowledge and more.
6. Official paperwork. The purchase of physical gold and silver within a gold IRA necessarily includes official confirmation steps and paperwork to make your investment valid for tax deferment. If you don't see paperwork, do not transfer your money.
7. Reasonable prices. Compare prices and ensure the company is offering prices at the market average or lower. Conversely, if prices are too good to be true, there is probably a less-than-honest reason.
ABOUT AUGUSTA PRECIOUS METALS
A thought leader and respected provider of gold, silver and other precious metals products, including the precious metals for gold IRAs and silver IRAs, Augusta Precious Metals is committed to helping Americans protect their hard-earned assets by making the gold and silver buying process affordable, easy and personal. The Nuriani family has thrived in the gold and silver business for more than 40 years, providing high integrity, knowledgeable and friendly personal service, and the industry's lowest prices. Read the company's more than 98% five-star reviews at Trustlink.org. Learn more about Augusta Precious metals gold IRA products and services at http://www.augustapreciousmetals.com .