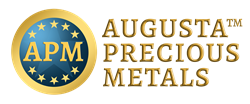 "When we began this company, we set out to create an organization that could compete strongly against other companies based on integrity and trust…and it appears that is exactly what we have done."
Beverly Hills, California (PRWEB) December 06, 2016
Augusta Precious Metals, a leader in the physical gold IRA industry, today announced the release of official gold and silver industry review-writing guidelines for both its precious metals IRA customers and others who simply want to buy silver, gold and other precious metals. The guidelines were released in response to requests by the company's customers for assistance in posting reviews online.
The company's president and CEO, Isaac Nuriani, said Augusta Precious Metals has always encouraged honest reviews from customers, and the guidelines reflect this.
"It's very important that our customers know they should be honest when they are evaluating us," he said. "If they don't feel they can tell it like it is, then we can never know how to remedy a problem and make it right."
Augusta Precious Metals Staff Monitors Reviews for Honest Customer Evaluation
Nuriani said Augusta takes heroic steps daily to ensure every customer reaches 100% satisfaction, but emphasizes that complaints from Augusta Precious Metals customers are rare. Members of the Augusta staff continually monitor reviews on all major review sites to identify unhappy customers and contact them to solve any issues with their Augusta transactions.
"I know it sounds like a lot of effort, but that's how seriously we take customer satisfaction," he explained. "People are worried about the integrity of gold and silver companies, and there is a reason for that. Not every company out there is committed to a high level of quality and integrity."
Nuriani said the company has put a great deal of time and effort into ensuring its customers are treated honestly and fairly, specifically to avoid being "lumped in" with companies that have only recently entered the gold and silver market to take advantage of precious metals earnings opportunities. "Some of those companies will go to great lengths to disrepute good companies like ours," he said. "But that will be hard to do, because we are truly committed to our customers, and they will confirm it."
Augusta Precious Metals is associated with the Nuriani family of Beverly Hills, California, who have been in the gold and silver business for more than 40 years. The company's website says Augusta operates on "values-based business practices" and is committed to "making the gold and silver buying process affordable, easy and personal."
Augusta customers have given the company hundreds of verified five-star reviews on the independent consumer review site, TrustLink.org. In addition, Augusta has earned the highest possible ratings with consumer watch organizations, including the Better Business Bureau (an A+ rating) and the Business Consumer Alliance (an AAA rating).
Augusta Precious Metals Review-Writing Guidelines Encourage Honesty
The Augusta review-writing guidelines were published on a stand-alone web page on the Augusta Precious Metals website, Augustapreciousmetals.com. In addition to providing links to TrustLink.org and Better Business Bureau websites, the page includes links to the review forms of major consumer sites, such as Facebook, Google+ and Yelp.
At the bottom of the webpage, a list of prompts is offered to customers who would like to write reviews, whether at TrustLink.org, any of the other sites listed on the page—or elsewhere. Nuriani said, "It's not always easy to know what to write to get across the point you want to make, and we hope these prompts and guidelines will help our customers say what they really want to say." He suggested that the guidelines could be used to write reviews for any product, not just gold IRAs or silver and gold coins and other precious metals products. TrustLink.org and other sites offer opportunities to review other products, too.
The guidelines on the Augusta Precious Metals website prominently encourage customers writing reviews to be honest, and to let reviews reflect the customer's level of satisfaction after Augusta has been given a chance to correct problems. From the Augusta review-writing page: "We all make mistakes, and we like to think, if we bend over backwards to fix any little thing that's not perfect, we are just as amazing as if it had gone perfectly every time."
"We all get a lot of satisfaction from reading our reviews," Nuriani said of himself and his staff. "When we began this company, we set out to create an organization that could compete strongly against other companies based on integrity and trust…and it appears that is exactly what we have done."
ABOUT AUGUSTA PRECIOUS METALS
A thought leader and respected provider of physical gold, silver and other precious metals products, including precious metals contained in gold IRAs and silver IRAs, Augusta Precious Metals is committed to helping Americans protect their hard-earned assets by making the gold and silver buying process affordable, easy and personal. The Nuriani family has thrived in the gold and silver business for more than 40 years, providing high integrity, knowledgeable and friendly personal service, and the industry's lowest prices. Read the company's more than 98% five-star reviews at Trustlink.org. Learn more about Augusta Precious metals gold IRA products and services at http://www.augustapreciousmetals.com.